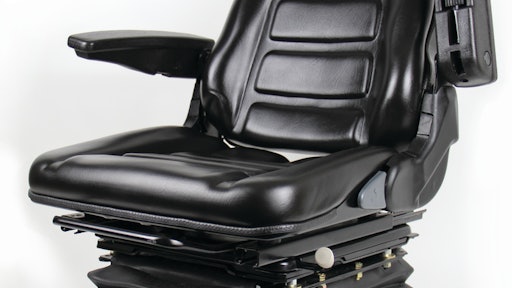 As vehicle operators continue to spend more time in their machines, choosing a comfortable seat is becoming just as important to an OEM's design process as choosing the right gauges or displays. To help OEMs continue to provide the best seat for equipment operators, seat companies are constantly developing new seats to meet changing operator comfort needs.
Ron Mock, Director of Market Intelligence at Sears Mfg. Co. (Sears), says the company is designing new things all the time. From large projects designing new cushion technology to smaller redesigns such as making wider and longer armrests, the company is always working on ways to keep operators comfortable.
Combatting NVH
One of the biggest factors affecting operator comfort is the combination of noise, vibration and harshness (NVH) caused by the various systems used in mobile off-road equipment and the terrain those vehicles drive over. Seat manufacturers attempt to combat NVH in a number of ways, one of them being the suspension system built into the seat.
Two commonly used suspension systems in seat design are mechanical and pneumatic suspension. Mechanical suspensions use coil springs as well as energy-damping shock absorbers to provide a smooth ride similar to that of a passenger car. Meanwhile pneumatic suspension systems employ air springs which have a variable spring rate.
Active air and semi-active air suspension systems are two of the pneumatic offerings from Sears. Designed with John Deere and Co., the active suspension uses the tractor's hydraulics to help alleviate vibrations. Speed sensitivity was built into the suspension system as well, so no matter how fast or slow the vehicle is going, the suspension system will keep the operator comfortable.
The semi-active suspension, according to Mock, is an electromagnetic damping system. An electronic controller sends a variable electric signal to the semi-active shock absorber as the suspension system travels up or down. This electric signal causes the shock absorber to create a softer or firmer ride dependent upon vibration inputs.
Sears now has a heavy-duty version of its semi-active suspension called the VRS 3. Designed for vehicles with extreme ride and vibration characteristics, the suspension has a 3 in. longer stroke, which "gives us a better isolation of vibration" says Mock. Stroke refers to the travel of a suspension system, such as up and down.
Comfort features
Along with suspension systems, seat manufacturers offer a number of comfort features to ensure a more pleasant seating experience. Add-ons such as adjustable armrests, headrests, cushion heaters or height-adjustable seat risers provide vehicle operators with more comfort for their long workdays.
David Winkels, Senior Vice President, and Brent Clark, OEM Sales Director at the Seating Solutions division of Iowa Export-Import/Global Solutions (IEI) say the company is continually working to update its seats and seat options to enhance operator comfort. This is why the company not only offers components such as adjustable armrests or lumbar support as add-on options but as standard features as well. Seats like IEI's premium high back seat have models which come standard with adjustable armrests, adjustable lumbar support, seat contouring and a taller seat back, which provides support without restricting the user's vision while operating the vehicle.
For its full adjustment seat with suspension, IEI includes a seat back that can be adjusted backward 28 degrees and forward 90 degrees. Weight adjustment and three position height adjustment are also included as part of the seat's comfort features. Since a vehicle can often have a different user every day, adjustable components such as these allow users to tailor the seat to their individual comfort needs.
Operator cool-down
One aspect of comfort often overlooked is body temperature. Vehicle cabs can get warm quickly and OEM-installed HVAC systems can only do so much to keep operators cool and dry while sitting in the same seat all day. With this in mind, one German-based seat company designed an active carbon layer into its fabric seat cushion options. Called active seat climatization, this seat technology draws perspiration from the body then expels it out the front of the seat cushion as well as the top of the backrest cushion.
Sears also offers a seat cushion technology to keep operators comfortable. Cellular foam in the cushion has cutouts into which small fans are positioned. Hooked up to a motor, the fans push air out through the foam and seat cover. "As you're sitting, you have air blowing around you," to help take away perspiration, says Mock.
Choosing the right seat
With so many available features, selecting a seat for a vehicle can be an overwhelming experience for any OEM. Features such as armrests, backrests and lumbar support always sound like great options, but will they be the right fit for a vehicle's eventual end user? This is why companies like Sears and IEI work directly with OEMs to help them choose or design the right seat for their specific application.
Winkels and Clark say working in tandem with an OEM enables IEI to modify or create a whole new seat to match the exact comfort needs for a specific vehicle. It provides a more efficient working relationship by enabling the development of a seat with the appropriate features and dimensional parameters, as well as for the intended purpose of those features, they say.
Sears' Mock agrees that working directly with an OEM can help ensure the right seat is chosen for the vehicle being designed. "Working with the OEM helps us maintain our customer relationships," says Mock. "[Working with the OEM] provides us good customer feedback and continuous voice of the customer," enabling Sears to design and tailor its seats to customers' specific requirements.
Another way Sears helps OEMs choose the right seat is through utilization of the company's six-axis ride simulator. A data acquisition machine is hooked up to a vehicle's cab and seat to collect inputs from the actual ride of the vehicle. The information is then used to create a computer generation of the exact ride of the vehicle and the seat's performance.
This data "allows us to fine tune the suspension," says Mock, and "do different spring rates within the suspension in order to make it ride for that particular vehicle." Mock also notes that the ride simulator is "man rated," enabling an actual person to sit in the seat and tell the company how his or her comfort was affected by the seat.
Design challenges
Beyond operator comfort, there are a number of other factors that must be kept in mind when designing a seat. Things like safety regulations and vehicle design can impact, and often cause challenges for, seating designs.
Available design space in the cab is becoming a more prevalent issue due to the new Tier 4 engines which demand more under-hood space, affecting the cabin size.
Vehicle controls within the cab are another large part of the problem because some applications, such as agricultural, can require up to five or six control consoles. "We have to be able to fit their consoles to our seats," says Mock, "and trying to put that in the cab, making sure you can swivel and isolate properly" can be difficult. Mock notes that vehicles with bigger viewing windows are contributing to limited cab space as well.
Operator Safety
There are ISO and SAE safety standards for restraint systems each seat must meet as well as ride standards for each individual machine. Mock notes that standards for seats in agriculture are different from those used in construction equipment, so seat companies must be mindful of a vehicle's application when designing a product. Standards also vary across the globe; the European Union's Physical Agents (Vibration) Directive regulates how much vibration a vehicle operator can handle. Mock says technologies like Sears' semi-active suspension were designed and continue to be updated for vibrational standards such as the EU's.
One way IEI has been meeting the challenge of keeping vehicle operators safe is by designing its seats to accept an operator presence switch, or safety switch. According to Clark, the switch senses the presence of the operator as the vehicle is moving. If the vehicle tips or causes the operator to fall out of the seat, the switch detects this and shuts down the engine. This feature generally accompanies seats used in lawn and garden or turf applications where rollovers are more common, but the vehicle has no cab or ROPS to protect the operator.
Through continuous seat design development and a variety of available seating options, companies like Sears, IEI and others are helping to keep vehicle operators safe and comfortable in any working condition.
Companies in this article