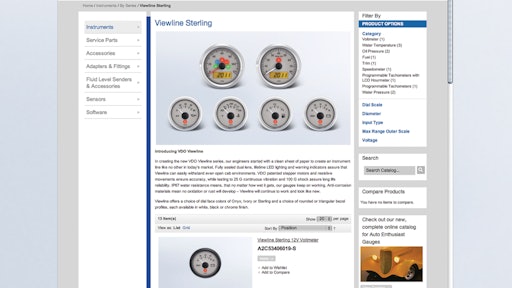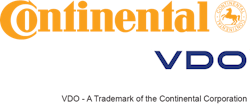 Continental Commercial Vehicles & Aftermarket, a world leader in the development of instrumentation solutions for commercial, transportation, off highway, agricultural vehicles and stationary equipment, has launched its new online catalog for VDO Special OEM Instrumentation at: www.vdo-instruments.com. This new interactive catalog makes it quicker and easier for heavy-duty and off-highway vehicle and equipment designers and manufacturers to find the right instrumentation, senders, sensors and accessories for their application needs.
From rugged analog gauges to sophisticated, flexible CAN-based instruments, the VDO Special OEM Instrumentation and Accessories online catalog contains the most comprehensive database of product information, specifications and details ever assembled for the VDO line of products.
Product comparisons and wish list features
Vehicle and equipment manufacturers can choose from a variety of filters to select the exact combination of products they need. The catalog also allows side-by-side comparison of several gauges and components. Most products in the catalog can be viewed from various angles and a zoom feature allows the user to see more details. It also features a wish list capability for future purchases.
According to Jeff Ross, VDO Instrumentation Product Manager, the new online catalog gives VDO customers complete access to the entire VDO family of products. It provides valuable information, application data, specifications and ordering information for Viewline Onyx and Ivory, Vision Chrome and Black, Cockpit International, Series 1, CAN Severe Link, CANcockpit GEN III and a full range of hourmeters. It also contains VDO Fuel and Water Level Senders, Pressure Senders and Switches, Temperature Senders and Switches, Speedometer Senders, ALAS I and ALAS II Fuel Senders, accessories and service parts.
VDO Instruments have long been the industry's choice for rugged and dependable performance, ergonomic design and leading-edge technology. VDO instruments continue to deliver the innovation, functionality and durability that have earned VDO the best-in-class reputation for instrumentation worldwide. Continental builds every VDO gauge with the same precision and quality as the OE instrumentation it delivers to OEMs worldwide.