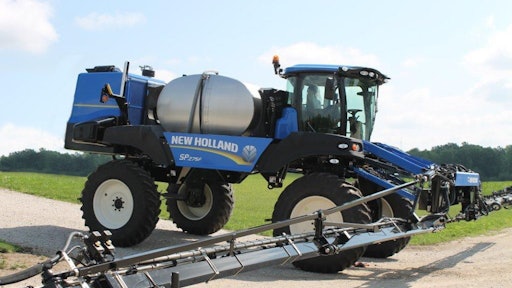 Long days in the field don't feel quite so long when working in a new Model Year 2013 Guardian sprayer. A complete redesign of the cab improves productivity by providing the comfort to spray all season long. Two cab packages, Deluxe and Luxury, are offered on all Guardian front-boom and rear-boom models.
The new cabs are wider and longer with air ride cab suspension for a smoother ride, and with more glass area for exceptional visibility to the boom tips and front tires. Rear corner windows provide an excellent line of sight to the rear boom. While seated in the comfort of the adjustable, high-back, air-ride seat, all controls—including the multi-function joystick, armrest command console, and console engine–transmission monitor—are easily accessible.
The armrest console is ergonomically designed with larger backlit and dimmable switches, which make operation easier. In addition, the joystick has been re-designed to place all critical functions at the operator's fingertips for precise, efficient control of all sprayer functions.
Two cab options are available: Deluxe and Luxury. Both cab options are pre-wired for auto-guidance and offer a complete complement of control features designed with the operator in mind. Other features of the pressurized heated and air-conditioned cab include active charcoal filtration with in-cab secondary filter, an instructional seat, a radio with XM Satellite, BlueTooth, CD player and weather band, auxiliary power outlet, and an adjustable tilting and telescoping steering column.
In addition to these features, the Luxury cab package also has automatic climate control settings, a fully adjustable air-ride leather seat, foot pegs and more.