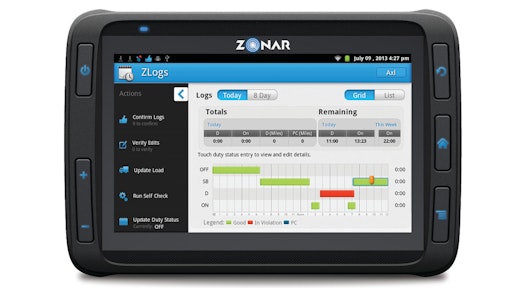 Detroit Diesel Corporation (Detroit) has introduced a new addition to its family: Detroit Connect, the telematics arm that includes the industry-leading Detroit Virtual Technician on-board diagnostics system. The new brand serves to strengthen Daimler Trucks North America (DTNA) and Detroit's commitment to developing integrated telematics solutions that enhance efficiency, uptime and performance. Detroit Connect is the first OEM provided, factory-installed telematics solution with remote diagnosis capability for the trucking industry.
As a global transportation leader, parent company DTNA has long set the standard for developing innovative technologies that increase fuel efficiency, improve product reliability and feature industry-leading safety components. With products that provide onboard diagnostics, fleet oversight software and in-cab integration, Detroit Connect telematics solutions complement and build upon DTNA's existing portfolio of solutions.
"DTNA and Detroit deliver innovative products that impact the bottom line for our customers," says David Hames, General Manager, Marketing and Strategy for Daimler Trucks North America. "With products like Detroit Virtual Technician and Visibility fleet software, Detroit has already established a solid foundation for telematics solutions. By formalizing the Detroit Connect brand, we are utilizing and building upon this groundwork to pave the way for additional product introductions and enhancements."
In conjunction with the launch of the brand, Detroit Connect has also introduced its new On-Board Tablet. The On-Board Tablet joins Virtual Technician and Visibility fleet software solutions to create a comprehensive suite of services that form the critical link between vehicles, engineers, service outlets and fleet managers.
"More than 60,000 Freightliner and Western Star customers have already benefitted from the proven advantages of Detroit Connect solutions, and the new On-Board Tablet will make it even easier to streamline and optimize data and communications," says Brad Williamson, Manager, Engine and Component Marketing, Daimler Trucks North America.
On-Board Tablet
The Detroit Connect new On-Board Tablet is an advanced mobile device that is equipped with four powerful apps to streamline driver communications and responsibilities. Developed in collaboration with Zonar Systems, the 7-inch color touch screen Android tablet provides Hours-of-Service logs for reporting; Two-Way Messaging including text to voice; Advanced Navigation for asset-specific routing and simplified Pre- and Post-trip Inspection.
The tablet works in tandem with Virtual Technician and Visibility fleet software.
Detroit Virtual Technician
Available for Freightliner and Western Star trucks with an EPA 2010 or newer Detroit engines, the proprietary Virtual Technician technology helps reduce downtime and decrease maintenance costs by providing a technical snapshot of the engine's status as soon as the Check Engine light comes on, enabling drivers and fleet managers to make informed decisions with real-time information. The Detroit Customer Support Center then relays the information to the provided contact to determine the issue, recommended service, how soon the engine needs to be serviced, and supply the closest authorized Detroit service location. Often, depending on the issue, the driver can complete the delivery before visiting the service center.
Trained technicians are alerted in advance of the customer's arrival, so they can quickly line up the parts, arrange for service and repair the problem.
Visibility Fleet Software
Visibility fleet software uses wireless communication and a GPS satellite network to deliver real-time data on the entire fleet to a secured website, enabling fleet managers and owners to monitor the status of one or all of the trucks. The software generates reports that analyze fleet efficiency, and provides detailed information on vehicle location, speed, mileage, routes, stop times, idle times and more.
"From our trucks to our powertrain to our telematics solutions, our customers demand solutions that impact their bottom line," says Williamson. "Detroit Connect will provide advanced technologies that benefit performance and efficiency that is bolstered by the unparalleled support of our award-winning service network."
Companies in this article