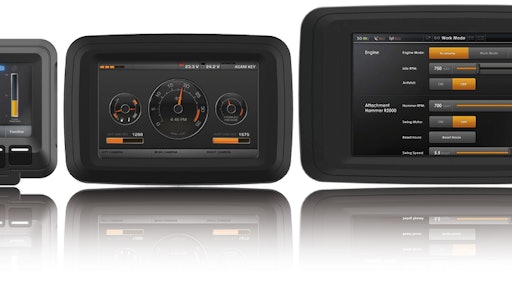 The new product line is a result of the merger of Maxima Technologies and CrossControl, forming maximatecc. In the new product line, the Maxima track record in products for high volume applications is combined with the advanced display technology from CrossControl.
Users of industrial vehicles are increasingly expecting the same user experience in their work equipment as they get with their Smartphone or in their car. The maximatecc response to this trend is to adapt the technologies from the Smartphone and automotive markets in a product packaging for the industrial vehicle domain.
Like has been the case in the automotive industry, we can project also for the industrial vehicle market that most of the innovations will come in the domain of software, through soft products and apps that help improve the user experience, human-machine interaction, equipment utilization and Life Cycle Profit. For advanced industrial machinery, this is already the case, illustrated by the developments in e.g. forestry machines, advanced tractors and mining equipment. What will follow is the same development also in less advanced/costly equipment, requiring a product packaging suitable for those markets.
The maximatecc response to this development is the CCpilot Vision line of displays. The display product line is designed for in-cab HMI functions in standardized vehicle applications. The line is characterized by sleek enclosure designs making Vision line displays easy to integrate in a dashboard. Vision line displays are based on modern ARM computing cores and are freely programmable with a choice of powerful programming and configuration tools. The CCpilot Vision line complements the CCpilot Xtreme line, designed for advanced HMI applications in the toughest environments.The CCpilot Vision line contains the following display products:
CCpilot VI - 3.5 in. QVGA color display
CCpilot VC – 4.3 in. QVGA color display with optional touchscreen
CCpilot VA – 7 in. WVGA color display with touchscreen
The Vision line products have optional software solutions, supporting different software strategies. The LinX configuration tool is ideal for system developers that need a fast drag-and-drop configurator. For more elaborate functionality, the CrossTecc software application platform, based on Linux, offers great flexibility. Here you can choose to develop your application in Qt or in CoDeSys. Or you can use both these software frameworks in parallel, e.g. using Qt for graphics and CoDeSys for fieldbus and controls.