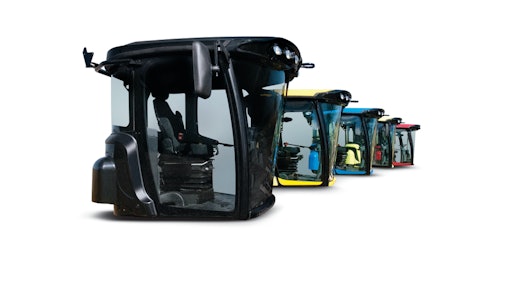 Diversification and investigation into new markets and customer bases is an essential practice for any business to be successful. It can protect a company from severe market cycle fluctuations while providing a service to underserved customers. Crenlo, Rochester, MN, (company information, 10265255) is a manufacturer of custom-built, equipment-specific operator cabs and roll-over protective structures (ROPS) utilizing lean sheet metal fabrication manufacturing techniques in addition to its own laser centers, robotic weld stations, tube bending and assembly capabilities.
"In the last five years, Crenlo has strategized diversification into markets we already serve but want to expand further into," says Mark Pillars, PE, VP of Cab Sales & Marketing at Crenlo. "We looked at the cab market and saw a lot of small equipment manufacturers which would have helped us diversify, but would have added significant square footage to our facility if we were to supply them each with their own custom platforms. Our capacity is directly related to our square footage (600,000 sq. ft. between its two facilities) for welding because historically large high volume programs need dedicated floor space."
Crenlo wanted to find a way to serve both a significant number of customers working in different markets while using the same weldment so only one dedicated area was needed. Crenlo team members looked out into the industry and observed suppliers—mostly OEMs—utilizing cab products that had been specifically designed for a vehicle model that was no longer in production and selling them back into the market to lower volume OEMs in agriculture, road-maintenance and transportation. "What we had found was a diverse group of customers for a single product," Pillars says. "We did a market study on some of the cabs being supplied and determined that the volume was adequate enough to justify labor costs to design our own product and the tooling necessary for the specifications of each market."
Meeting unmet needs
A market analysis and voice-of-the-customer study was conducted by a team of stylists, designers and marketing people at Crenlo to determine what both the basic and unmet needs of the small OEM customers were. "Branding was a huge problem. They were buying a competitive OEM's cab configured for its own vehicle design features. There were no color options. Basically you could have any color out there as long as it was black," Pillars says. "The customers were buying the cab product, taking off the plastic parts and repainting the cab in their color, so we knew our product offering had to have color options. We also found that options like mirrors and lighting that were unique to applications were not configurable on existing cab options for low volume OEMs too."
So, Crenlo began the development of what was to become its Cobalt cab platform (product information, 10860582), a single frame unit built to provide flexibility and feature options for the small volume OEM customer. Cobalt features molded-in color options for customers with over 60 units per year for the cover, rooftop and cladding, as well as mounting configurations for mirrors and lighting. "When we were going through the design process, we designed the options directly into the wire harness so it is standard but can be configured differently to each customer's needs," says Andy Green, Project Engineer for Cobalt Cabs with Crenlo. "We use one frame. Every frame that hits the Cobalt assembly line is identical," Green continues. "We configure each option at the assembly level."
The Cobalt cab is pressurized and built to accommodate current technologies and ergonomic standards. Interior comforts such as the seat, steering column, headliner and the electronics are all configurable to the customer's specifications and application.
Cobalt's manufacturing process is not a significant departure from Crenlo's existing model. "This weld line is very similar to any other major weld line we already have, so it was no disruption in the business. However, this product is assembled to a much higher level with many more options than what we have on any other product line," explains Pillars.
One feature that has not transferred to the standardized Cobalt platform is ROPS structure. Since ROPS is specific to a vehicle's application and varies by size and gross weight, it does not coincide with the idea of the flexible cab. "It is directly in conflict with our idea of a standard platform," Pillars confirms.
There is engineering required by the customer in order for the Cobalt cab to be used, but Crenlo offers flexible mounting configurations to help with the process. "We work with our customer up front providing simplified electronic models that they can use to design us into their vehicles. Designers work with them through a prototype phase where we can provide a rapid sample unit configured with the options they have requested so they can put it on their chassis to verify the design," says Pillars.
What's next?
At present, Crenlo is holding true to its original plan, though Pillars suggests that in the future it is likely the company will attempt to move its flexibility from assembly into weldment while still using a small footprint for products that do not require unique tooling. The Cobalt line has a five year plan with a target number of units. "Year one we exceeded that, but we chose to pull back and make sure we were supporting our initial group of customers with a high quality product that meets their performance requirements," says Pillars. "Our first year we focused on three core agriculture customers with higher volumes; we are now expanding in the second year to between six and 10 customers and moving into smaller customer applications in industries such as snow grooming, airport equipment and specialty ag vehicles.
Eventually Crenlo knows it needs to hit and sustain an approximate 1,000 units to get a return on its investment, but it plans to do so with several customers ranging from 20 to 500 units per year instead of one large customer. "We have a significant range of customers with unit volumes in tens and hundred counts, all of which couldn't have afforded such a highly configured and tooled cab for their vehicle platforms alone," says Pillars.
As a part of International Equipment Solutions, a global engineered equipment company that invests in synergistic companies, North America-centric Crenlo has a second home in Brazil through Siac do Brasil Ltda., South America's largest cab manufacturer. "We hope to serve other locations in the world like Europe and other BRIC countries. And, since cab products are generally not shipped from continent to continent, it is probable that you will eventually see a South American version of Cobalt. Our biggest limitation is component suppliers that don't operate in these other regions, so we will use local partners," says Pillars.
"In a perfect world, we'll have Cobalt in three to five different market places around the world, and it's the same story everywhere: Small manufacturers are using someone else's cab, and more often than not that cab supplier is a competitor in some way. Crenlo and its Cobalt brand help bring low volume, highly customizable cabs to these underserved customers."
Companies in this article