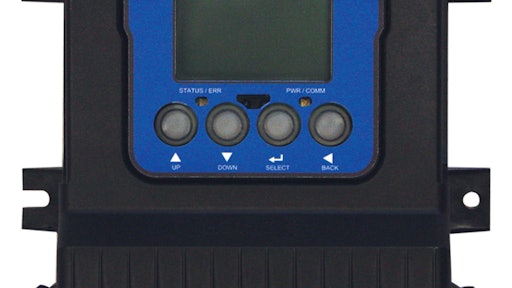 Magnetek Inc., a leading provider of digital power and motion control systems, announces that it has been granted a patent by the United States Patent and Trademark Office for its Enrange MHR Radio Controller. Protected by Patent No. 8554378, the MHR Radio Controller integrates the components of a radio receiver and hydraulic controller into a convenient single unit, reducing costs and freeing up valuable space. When packaged with one of the company's transmitters, it provides a total wireless system for operating mobile equipment including boom trucks, truck mounted cranes, derrick diggers, concrete pumpers, and trenchers. The MHR Radio Controller also provides precision control of mining equipment such as continuous miners, locomotives, drills, bolters, longwall shears, battery haulers, scoops, muckers and load haul dumps.
"The U.S. patent for our Enrange MHR Radio Controller reinforces the innovation designed into this sophisticated, hybrid controller," says Ben Stoller, Director of Radio Controls for Magnetek. "The MHR controller offers the benefits of both traditional hydraulic controls and radio controls in a single unit, providing the mobile and mining marketplaces with a control solution for a variety of applications."
An informative graphic display with a user interface is integrated into the MHR for in-field programming of system settings. Two-way 2.4 GHz FHSS feedback is available, providing operators with precise information about equipment performance. Numerous analog, digital, and frequency inputs and outputs are also available which can be programmed in a variety of configurations.