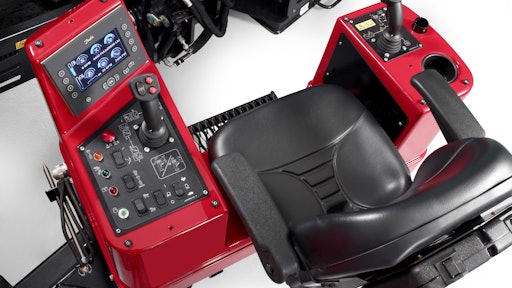 The Toro Company has introduced TDOS 1, an all-new software operating system for Toro's DD4050 horizontal directional drill (HDD). The new software will provide a number of added features to HDD operators including streamlined drill controls, intuitive navigation, and single-screen display of all key information – such as tool rotation speed, engine RPM, thrust, torque, and drilling fluid flow and pressure.
In terms of productivity, the streamlined drill controls are designed to increase pipe load and unload cycle speeds to deliver optimal performance in all conditions.
TDOS 1 will also enable contractors to monitor drill idle time, in addition to total engine hours, to better assess machine utilization. Additionally, operators are provided with notifications when recommended maintenance should be completed to help ensure the drill maintains top performance.
"The integration of this robust new software ultimately provides a more productive HDD unit," explains Joshua Beddow, Marketing Manager at The Toro Company. "Utility contractors can have complete confidence that they're getting the most out of their HDD equipment. Novice and veteran operators alike will be able to quickly understand the intuitive controls, which helps increase overall productivity on site."
The new software also features multiple configurable settings and limits, including torque and thrust limits, allowing the operator to optimize drill performance based on the requirements of each specific application. The software and operator station continues to offer single- or dual-joystick operation to accommodate operator preferences.