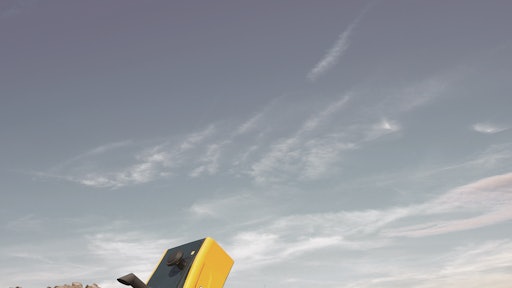 Hyundai Heavy Industries Europe is launching four new wheel loader models at bauma Munich 2016; the HL940 TM, the HL955 TM, the HL970 and the HL980 will be making their world debut on the Hyundai stand.
These new wheel loaders are designed for maximum performance, productivity and efficiency, and have been proven to deliver as much as 5% greater productivity and 10% lower fuel consumption than the previous 9A Series loaders.
At bauma 2016, the following wheeled loaders will see their world premiere:
HL940 TM - Wheel loader Tool Master
HL955 TM - Wheel loader Tool Master
HL970 - Wheel loader
HL980 – Wheel loader
Hyundai's design philosophy
Hyundai's R&D department has been working hard on this new range, bearing in mind the needs of both the owner and the operator of the machine. With a strong focus on quality and safety (e.g. improved ergonomics), a cost-efficient approach (thanks to the increase in productivity and the higher fuel efficiency), and the focus on maximum operator comfort (e.g. Infotainment system) these machines work both ways. Both parties – customers with entrepreneurial skills and operators looking for a comfortable, world class machine - are being served.
"After the initial launch at Intermat 2015 of the first new generation HL900 models equipped with Stage IV engines, we have received confirmation from the market that this new series performs even better than expected. Excellent driver's comfort, high quality and durable engines supplied by leading engine manufacturers with reduced fuel consumption and several state of the art novelties make our new HL900 Series well accepted by a highly demanding European market. We are confident to launch the latest models at bauma 2016 and trust that Hyundai wheeled loaders will be recognized as high quality and durable machines. The progress in gaining market share and brand recognition in this highly competitive segment of industry will continue," comments Alain Worp, Sales Director Construction Equipment Hyundai Heavy Industries Europe.
The Tool Master models
The HL940 TM and HL955 TM are Hyundai's wheel loaders with parallel kinematics, instead of a conventional Z-bar. They are fitted with a quick coupler to be used with a multitude of attachments (forks, grapple, etc.)
Improved Safety Features
Safety is a key design element for the new HL Series. For added safety when getting on and off the machine or for inspection and maintenance, Hyundai's new wheel loaders are equipped with large access steps to the cab, convenient grab handles and upper guard rails near the engine compartment. The larger cab improves entry and exit. Ergonomically positioned operator switches, controls and other features make it easier to quickly access critical functions. Additional features on the new wheel loaders include an improved rear view camera that delivers higher resolution and enhanced night time visibility.
Environmental features
In addition to being more fuel-efficient – the new HL Series of machines have many other environmentally friendly features.
Automatic shutdown of the engine prevents unnecessary fuel consumption and emissions. The HL Series turns off the engine when it enters into an 'idling' state. Operators can select operating mode and 'idling' time depending on work environments which improves its efficiency even further.
The Eco Pedal gives feedback (increased pedal pressure) to the operator to stay in the engine's economical operating range. The electro-hydraulic fingertip control, available on select models, provides additional precision and reduces operator fatigue. The color-changing Eco Gauge provides the operator with a visual reference of fuel efficiency, total fuel consumption and average fuel data. Machines are equipped with a five-speed automatic transmission with a lockup clutch (HL955-HL980) which improves efficiency and minimizes heat.
The HL Series also features a 'travel speed limit control' where the operator can limit the maximum traveling speed within a range of 20 km/h to suit diverse working conditions which improves operational effectiveness.
New cabin offers more comfort for the operator
Silent, safe and comfortable, the new 10% larger ROPS/FOG/FOPS cabin with fully adjustable seat provides an ergonomic working environment that offers the ultimate in comfort for the operator.
The new cabin is fully sound-proofed using state-of-the-art noise reduction technology which ensures maximum silence (68 dB) when working in noisy environments such as quarries or waste handling depots – the new models benefit from a 2 dB reduction in cabin noise over the 9A Series machines.
The new air conditioning system maximizes heating and cooling performance by optimizing air flow through the cabin.
The electro-hydraulic integrated control lever allows operators to operate attachments with ease which in turn enables greater productivity and minimizes operator fatigue.
Hyundai's 'infotainment' system for the operator's convenience
The new HL models are optimized to enable operators to access accurate equipment data in quick time. This feature is of particular importance when working in tough environments to improve productivity.
The intelligent 7-in. wide touchscreen monitor is similar to a smart phone display, is larger than the previous models and is easily read. The Audio System, which includes a radio, has an integrated Bluetooth hands free feature, and a built in microphone allowing the operator to safely take and make calls when in the cab.
The 'infotainment' system also allows the operator to enjoy the Miracast system which works via the WiFi of the operator's smart phone and enables easy use of the smart phones features on the big screen including navigation, web surfing, watching videos and listening to music.
Soft end stop
The touchscreen monitor and EH controls allow several (new) features like 'Soft End Stop', bucket priority and boom bucket detent mode, to be controlled through the touchscreen. The 'Soft End Stop' delivers - when an attachment reaches the end of a stroke - a 'shock free' operation by reducing the speed of the attachment near the end stroke. This function can be disabled through the monitor should the operator not want to use this function.
New Weighing System
The HL Series improves work precision with additional weight calibration. The automatic/manual cumulative weighing function greatly improves operating efficiency. Icons displaying weighing errors and the two-color weight value indicator on the monitor enable accurate weighing to support efficient production management.
Redesigned Buckets
Hyundai engineers have also redesigned the wheel loader buckets on the HL Series and they now have a better fill factor, an additional spill guard to minimize spillage of loaded materials and changeable heel plates.
Ease of maintenance – electric retractable engine hood
A flick of a switch is what it takes to gain complete access to the engine compartment of Hyundai's new wheel loader – a brand new feature not seen before on the previous range of Hyundai wheeled loaders. The fully retractable engine hood allows easy cleaning and maintenance.
The HL Series has a large-volume air cleaner, an automatic dust ejector and a three-stage turbo pre-cleaner, as an option, to improve the replacement cycle and durability of supplies. The machine also has a fully sealed engine room, designed to prevent the possibility of fire caused by the inflow of 'foreign materials.'