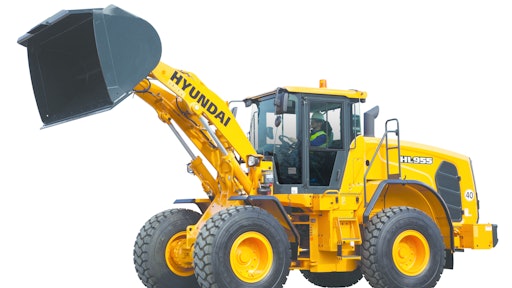 Taking center stage on the Hyundai stand at INTERMAT was the brand new HL955; the South Korean manufacturer is confident that this all-new wheeled loader will be a winner in the 2.8 m3 class. The HL in the model number stands for Hyundai Loader.
The HL955 is equipped with a Stage IV Cummins QSB6.7 engine with a power of 149 kW. The 15,000 kg (15 tonne) wheel loader HL955 comes with a 2.8 m3 bucket as standard. In the new models Hyundai has significantly redesigned the wheel loader buckets and they now have a better fill factor, an additional spill guard and changeable heel plates.
New Power Generation
The new engines comply with Stage IV emission standards for the reduction of particles and Nox in exhaust gasses. Hyundai has chosen a combined solution with EGR and SCR technology. This results in a reduction of fuel consumption of 3 to 6% dependent on the machines activity.
The completely redesigned wheel loaders are characterized by a new spacious cabin and softer and eye-catching lines. The cabin has also been made larger and has additional height. The bigger windows also offer an even better all-round view of the working equipment and the machine's surroundings providing a safer working environment for the operator. New electro-hydraulic controls replace the previous hydraulic pilot control. All these improvements in turn mean that the new HL-Hyundai wheel loaders can be used more precisely and more efficiently.
Enlarged touch display for ease of operation
In the cab is the new and larger 7-inch touchscreen monitor (18 cm) – the new screen can be operated while wearing gloves which can only be good news for the operator in the colder months. Hyundai says this new feature, 'Is important news and provides better efficiency, easier control and more options for man-machine-communication.' The new touchscreen monitor is 'user friendly' and offers even more functions than the previous monitor. The main view of the screen can also be adjusted according to the preferences of the operator and can be controlled via touch control. The connection to a mobile phone is easier than ever.
Larger dumping height
The new wheel loader is also available in XT version (larger dumping height) and is offered as a TM (Tool Master) with parallel kinematics.

The first HL models were available to order at INTERMAT. By the end of 2015, the HL-Series ranging from 1.3 to 7 m3 bucket capacity will be available for all European customers.