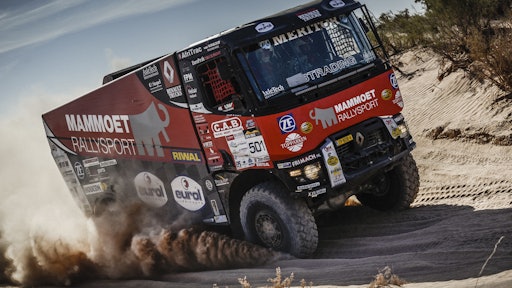 Renault Trucks will exhibit nine vehicles at the 66th IAA trade fair at Hanover from September 22-29, 2016, hall 17, stand A21. Long distance, construction, distribution, rally truck and animations will all attest to the historical robustness of the diamond brand.
Where long distance trucks are concerned, visitors will exclusively be able to see for themselves the Renault Trucks T Maxispace High Edition, a special edition of the T520. Likewise visitors will be able to climb on board a cut-open cab of the T High so that they can appreciate the ergonomics, the visibility and in particular test the comfort of this vehicle, voted international truck of the year 2015 during last year's Hanover fair.
As for the construction range, the highlights will be a very special version of the K, specific to the German market, the Renault Trucks K480 Skorpion, plus the MKR Adventure K truck just back from its recent performances at the Dakar and the Silk Way Rally, which will be presented to the public for the first time. This truck will be the subject of particular attention because it will be possible to experience the sensation of driving on board it in rally raid, thanks to two driving simulators.
Visitors at the Renault Trucks stand will likewise be able to attend a truck customization workshop "Pimp my truck!" Sven Punke, Marcel Barth and their team from the Truck Tuning Center, who were amongst the winners with their truck 'Avatar' at the last Truck-Grand-Prix at the Nürburgring, will be working hard in the 300 m2 space that Renault Trucks has reserved for them. Airbrushing, removal and fitting of parts, or even the original upholstery of the cab interior, a Renault Trucks T High will be undergoing customization throughout the trade fair. Spectators will appreciate not only the tuning activity and accessories used, but also the ruggedness of the vehicle. To allow visitors to follow current events on the stand and in particular the customization progress, Renault Trucks will be offering reporting and will also retransmit the show "Pimp my truck!" on social networks.

Practical information
Press conference:
Wednesday, September 21 from 10:50-11:15 at the

Renault Trucks

stand
Vehicles on show:
Renault Trucks

T520 Maxispace High Edition 4x2

Renault Trucks

T460 Sleeper 6x2

Renault Trucks

C460 Optitrack 4x2

Renault Trucks

K480 Skorpion 8x4

Renault Trucks

D Wide 460 4x2

Renault Trucks

D cab 2.1 m
Renault Master Euro 6 van L4H2

Renault Trucks

K MKR Adventure