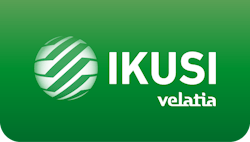 From September 26-28, Ikusi will be participating in a new edition of MINExpo in Las Vegas to present to the market its offering of remote control devices designed to meet the specific needs of the mining industry, a sector requiring robust equipment with excellent ergonomic conditions that is capable of operating in hostile environments.
Bearing in mind the special characteristics that the equipment in the mining sector needs to have, Ikusi has incorporated the LED panel option into its remote control devices, offering a high degree of robustness and customization.
The panel of the IK3 and IK4 transmitters can have a maximum of 12 LEDs to get feedback in a simple and visual way, so that the user knows that the operation is proceeding as expected. This information can be transmitted through the switching on and off of the lights (ON/OFF) or through the three colors in which the LED lights up (green, amber, red). For environments in which there is poor natural lighting (such as underground works), the panel can have two side lanterns. Meanwhile, the IK2 transmitter has a maximum of eight LEDS and does not offer the option of fitting the lanterns.
The face plate design and the number and disposition of the LEDs is 100% customizable, according to the customer's requirements.
The incorporation of the LED panel into Ikusi's remote controls allows an increase of the potential display formats and the degree of customization and user-friendliness of the information displayed.
Likewise, Ikusi offers remote controls specially designed to meet the needs of a whole range of vehicles, cranes and machinery operating in the mining industry.