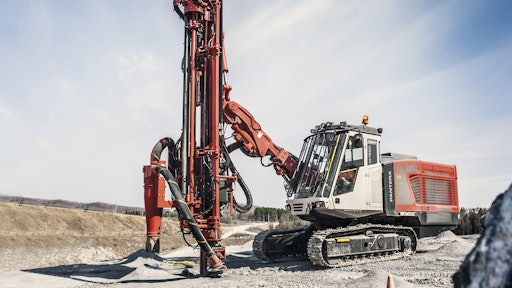 Sandvik has engineered productivity upgrades into the well-known DPi Series surface top hammer drill rigs. The latest release of the Pantera DPi Series drill rigs introduces such features as a redesigned operating system combined with other substantial upgrades and a completely new rock drill.
Redesigned control system for better usability
The Pantera DPi Series drill rigs include a redesigned control system with an updated user interface and touchscreen. Featuring the latest Sandvik user interface style, support for new drill rig options and enhanced troubleshooting functions, the new control system enables easier and even more accurate drilling.
Reduced oil and fuel consumption
To optimize drilling performance Pantera DP1500i is now available with a high frequency RD1635CF rock drill with Circulating Shank Lubrication (CSL) system that guarantees fast and efficient penetration. In CSL oil is circulated through filters and reused, rather than just collected. "The new CSL system reduces shank lubrication oil consumption by up to 70% compared to the old system, and significantly increases coupling sleeve life," says Jarno Viitaniemi, Product Manager, Surface Boom Drills, Sandvik Mining and Rock Technology. "The drill rig has really been redesigned with economy in mind. It has also been enhanced with a new compressor control system that provides even better fuel efficiency."
Further Pantera DPi improvements include modifications to the exterior design, which improves accessibility thereby enabling easier maintenance. In addition, the drill rig comes with the latest high-tech options, such as Driller's Notes. The latter is a completely new feature that allows the operator to add hole information, such as voids and cavities, to hole quality reports during drilling.
The Pantera DPi surface top hammer drill rigs are intelligent, self-propelled, crawler-based surface drill rigs designed to be used in quarrying, production drilling and wall control and development works. The Pantera DPi drill rig family consists of two models: Pantera DP1100i for hole sizes of 89-140 mm (3 1/2 to 5 1/2 in.) and Pantera DP1500i for hole sizes of 102-152 mm (4-6 in.). Both are available with low fuel-consumption and low-emission Tier 3 and Tier 4 Final engines.