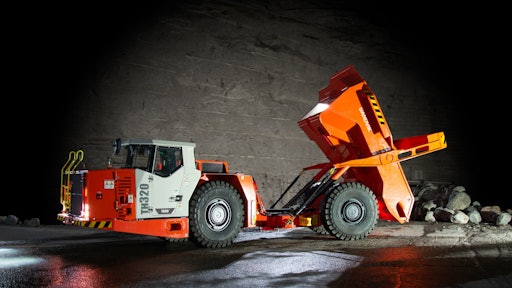 Sandvik
Sandvik has upgraded its proven Toro TH320 20-tonne and Toro TH330 30-tonne trucks to reduce customers' costs of ownership and improve productivity. With a hardy structure, compact size and fit-for-purpose components, the trucks are built to be robust and reliable and tailored to meet productivity targets in challenging underground environments.
Robust and reliable powertrain, fuel-efficient engine for high altitudes
Both upgraded trucks come with a sturdy 235 kW Tier 3 Volvo Penta engine with catalytic purifier and muffler, delivering long engine lifetime in underground mining conditions. The fuel-efficient 8-liter engine with high-tech injection system contributes to an efficient combustion and low fuel consumption. Furthermore, the engine is also calibrated for use in high-altitude conditions without sacrificing performance or reliability. The heavy-duty and efficient aluminum cooler has outstanding corrosion resistance and is easy to clean, helping to reduce total cost of ownership. To minimize brake and transmission overheating and brake wear as well as to provide better control of downhill speed, the trucks can be equipped with an optional engine brake.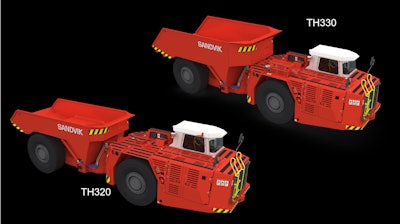 New heavy-duty axles with extended lifetime
Sandvik has now equipped the Toro TH320 and Toro TH330 with new heavy-duty axles using limited slip differential to maintain traction, and expected to have an extended lifetime compared to the previous models.
"We have really worked to improve availability and reliability and reduce the time needed for servicing or maintenance," said Pia Sundberg, product line manager trucks at Sandvik Mining and Rock Solutions. "For fast ramp speeds when hauling ore we have equipped these trucks with a new transmission with automatic gear shifting and torque converter lock-up."
Simple and fast maintenance, reliable hydraulics
To increase uptime, Sandvik has also made upgrades to enable easy and fast maintenance. The trucks are designed for daily ground level maintenance. When accessing the top of the equipment is required, the entirely new access system on the front of the truck provides a steady grip, including 3-point contact high-contrast handles and anti-slip steps. The proven hydraulic system of the truck is simple and reliable, contributing to ease of maintenance and lower total cost of ownership.