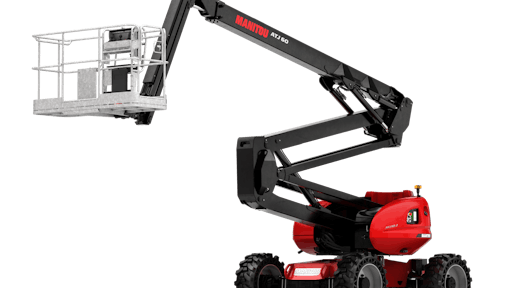 Manitou adds a 60 ft. articulated Mobile Elevating Work Platform (MEWP) for the United States and Canada. The Manitou ATJ 60 MEWP brings the product lineup to four articulated diesel, two articulated electric and four straight boom diesel models for the North American market.
Read more about Manitou's expansion efforts in North America.
"The addition of the ATJ 60 to the Manitou product family allows operators to address the majority of applications required on today's jobsite," says Mike Sover, North America Product Marketing Manager for MEWPs, Manitou Group. "This model is the highest reaching articulated platform we offer in North America and it's designed to maneuver on the toughest jobsites. It is built for rough terrain applications with 17 inches of ground clearance, four-wheel drive and three steering modes."
The new Manitou ATJ 60 articulated MEWP has a platform height of 59 ft. 11 in., an impressive up-and-over reach of 26 ft. 3 in. and horizontal outreach of 39 ft. 4 in. It comes standard with four-wheel drive, rough-terrain tires, 17 in. of ground clearance and a 500-lb. platform capacity. The ATJ 60 is powered by a Kubota 42.9 hp diesel engine and has a front oscillating axle for added power.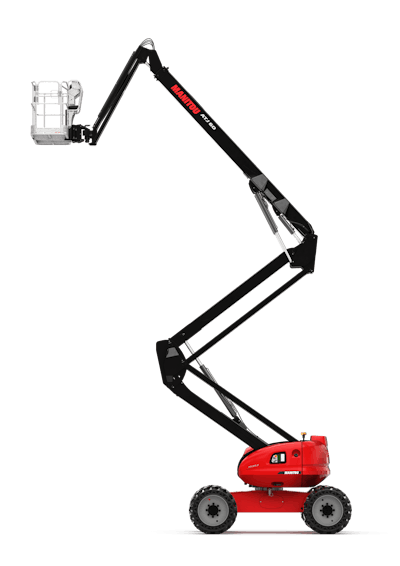 The Manitou ATJ 60 is a smooth operating and precise machine. The turret rotates 360 degrees and, with constant rotational control, the platform rotation speed varies according to how far the boom is extended. The operator is able make four simultaneous movements, including platform direction, machine rotation and lifting the boom. Four-wheel, two-wheel or crab steering modes are also selected by the operator.
Maintenance is simplified on the Manitou ATJ 60 with a self-diagnostic panel at ground level that can quickly detect fault codes. Manitou's EasyMANAGER telematics system also gives the ability to manage the unit's location, maintenance cycles and service warnings. The ATJ 60 has been engineered to comply with the new North American ANSI A92 standard.