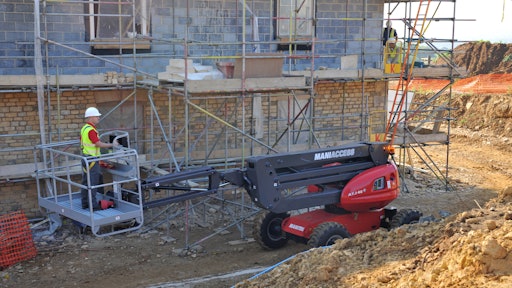 Manitou North America
Manitou has announced the company is bringing its mobile elevating work platforms (MEWP) to the North American market. Doing so is a core initiative for the company going into 2020, and part of its long-term strategic growth initiative, says Mark Hanson, CEO, Manitou North America.
The machines will be built in France, where the company is headquartered. A new manufacturing plant is currently under construction near the existing plant in Cande, France. Once completed, one plant will be dedicated to building articulated MEWPS while the other will be for rough terrain versions.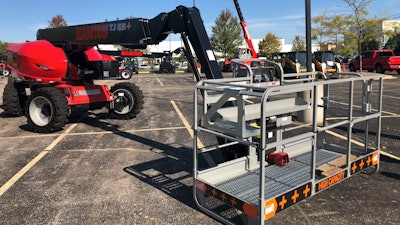 Industry growth will continue
North America—which for Manitou is the U.S. and Canada—is the largest MEWP market, says Hanson. Roughly 95% of MEWPS are for the rental market, which is anticipated to continue growing for the next several years. Equipment rental revenue is anticipated to finish 2019 at $55.7 billion, up 5% from 2018, according to data from the American Rental Association (ARA).
Equipment rental revenue will grow even further in the next 3 years:
+3% in 2020
+3.8% in 2021
+4.1% in 2022
ARA data shows the MEWP rental market is anticipated to exceed $24 billion by 2024.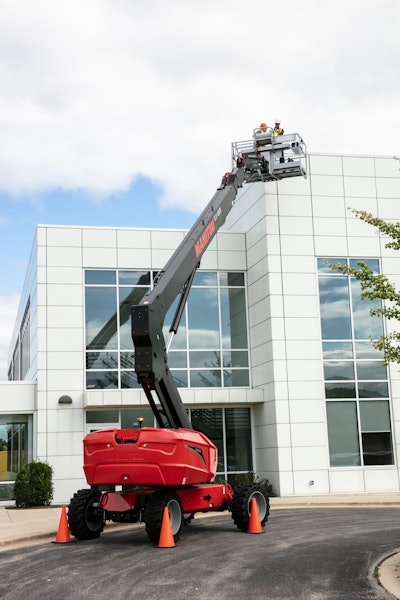 The MEWP market is currently down 14% but is still anticipated to be strong going forward. In 2018, the North American MEWP market increased for all machine types (articulated booms, telescopic booms, etc.).
Jeff Weido, Senior Director – Product Management & Marketing at Manitou North America, says the market has been in a strong growth pattern for the past 5-8 years and at some point the market needs to adjust itself. "I think [that is] part of what is happening right now," he says. "We feel the MEWP market is still very strong."
Most of the company's dealers expect growth in 2020, says Weido. It may be small or moderate, but there is cautious optimism going into the next year. Construction is still a fairly strong market, as well, he says, which is the dominant application for MEWPs.
Because of this confidence in the market—and the fact North America is the largest MEWP market globally—Weido says now was the time for Manitou to expand its presence.
The company also chose now as the time to bring its MEWPs to North America because it has put a strong, solid team in place to sell, support and train customers on the product. "If you have the products, that's one thing, but if you don't have all the other infrastructure pieces in place…we needed that core to be able to launch the products," says Weido.
"We've been taking a methodical approach to making sure we have the product right, the parts in place and the support…all the things it takes to be successful at launching a new venture such as this," adds Hanson.
Machine offerings
Manitou will be bringing all of its MEWP variations to the North American market. These include diesel- and electric-powered articulated booms, telescopic booms and vertical jibs.
The company recently introduced its new machine offering to dealers at an event in Milwaukee, WI. View the video below to learn more.
Mike Sover, North America Product Marketing Manager, MEWPs, at Manitou North America, says straight booms are the most popular type in the rental industry. This is due to their flexibility, higher lift heights, maneuverability, and performance on rough terrain.
Sover says the company will spend a lot of time ensuring product meets the needs of the market. "As I'm talking to customers, what might be good in Europe may not be required in North America," he explains. "It's our job to make sure we give you the North American market what it's looking for."
Weido says for the most part, customers in Europe and North America are looking for the same features. One aspect that is different on North American machines is the ability to add a welder-ready package on the new TJ models. "Most end users that are operating a stick boom or the telescoping jib boom want to have the welder-ready option on the machine, because they are [welding while on the machine] and need various heights," explains Weido. "So that was one thing we made sure to have on all our machines for North America that they don't necessarily have in Europe."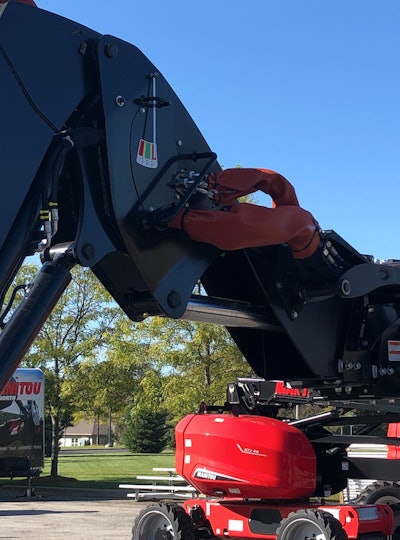 The welder-ready package consists of covering over hoses on the machine to protect them during welding operations occurring when users are on or around the MEWP.
Another aspect that is different for the North American machines is the inclusion of a swing gate for entry on the work platform, says Hanson. Serviceability and proper outfitting for the market were also taken into consideration. "There was a number of things that were implemented during the development process to make [the MEWPs] ready for North America," he says.
Safety features for the MEWPs are relatively the same for both the North American and European markets. As such, the machines Manitou is creating for North America already meet the new ANSI A92 standard.
Read more: New ANSI A92 MEWP Standards Effective in December
The company's MEWPs are built to the European CE standard, which Weido says has become the ANSI standard for North America. "So, we know how to build to that specification, we've been doing it a long time, we have a confidence in that product" he says.
This means Manitou didn't have to adapt or change aspects of its MEWPs, whereas other manufacturers may now have to focus their efforts on meeting the new standard. "I think that's what differentiates us, is we've been able to focus on some of the other core [features] of these products," says Weido.
Since the company is already building its MEWPs to spec, it can focus on differentiating itself in other ways such as performance or prolonging the life of the machines. "It's also why we were more ready to just jump in and [bring MEWPs to North America]," concludes Weido.
Companies in this article