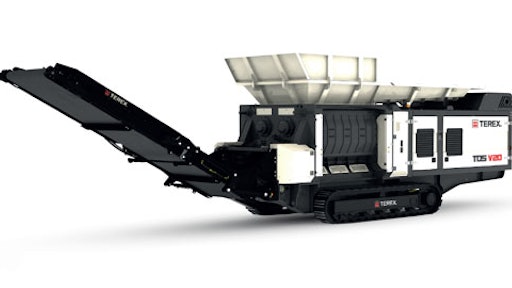 Terex Environmental Equipment's drive to introduce new technology to the waste processing market is shaping the industry for years to come. This is no more evident than the partnership between Terex and leading German Shredder manufacturer Vecoplan, creating an industry first mobile medium speed shredder. This double shaft machine with shaft speeds of up to 168 rpm and a highly accurate cutting action creates minimal fines, while replaceable sizing screens control the maximum size of the product generated. The intelligent tramp material protection system gives operators the necessary confidence when unsuspected contaminates appear in the feed material. This unique combination of features has helped launch this machine to the marketplace with great results.
Terex Environmental Equipment's dealer network has undertaken an aggressive demo tour schedule to let customers see first-hand the machine's capabilities and fully appreciate the benefits it can bring to their businesses. Terex fully understands that customers want the security of seeing the machine function in their own surroundings and have the chance to operate the machine before making an investment.
Biomass production from pre-sorted waste wood is a major growth market within the waste industry that is creating a lot of interest for the machine. Traditionally, operators have used a slow speed shredder for pre-shredding, a high speed shredder for accurate size reduction and a trommel to remove unwanted fines. The capabilities of the TDS V20 shredder allow this process to be performed in a single pass through one machine instead of three, greatly reducing the creation of unwanted fines and operating overheads.
The versatility of the TDS V20 shredder to perform equally well in RDF and SRF production, green waste shredding, tire shredding and hard plastic shredding is another key advantage to the machine. Operators will benefit from outstanding productivity from the TDS V20 shredder and ultimately it will help them to run a more cost effective and efficient business.