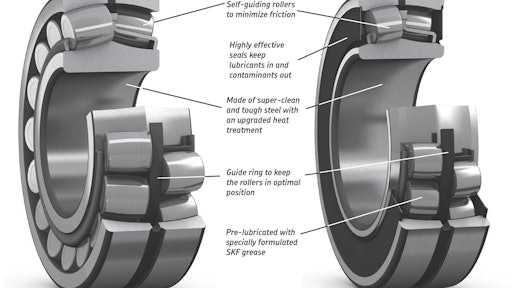 SKF demonstrated a comprehensive range of its leading solutions at bauma 2016, which improve the reliability and reduce the operating costs in the mining, mineral processing and construction industries.
A featured bearing solution was the upgraded SKF Explorer spherical roller bearing. With improved heat treatment, the upgraded SKF Explorer spherical roller bearings can have a service life twice that of the previous industry leading SKF bearings, especially under contaminated or poor lubrication conditions. The upgraded bearing is also available in a sealed version. This protects the bearing from contamination during assembly into the machinery and during operation with considerably less maintenance.
In addition, with a new design in the smaller sizes, the sealed SKF Explorer spherical roller bearings have up to 50% less seal friction, resulting in reduced operating temperatures by up to 20 C, enabling doubled operating speeds.
Another solution for the mining and construction industry was the range of SKF Explorer steel/steel plain bearings. With improved corrosion resistance and heavy-duty sealing, these bearings now have a dynamic load rating 50% higher than conventional steel/steel bearings. These bearings can operate maintenance-free and last significantly longer than even regularly re-lubricated conventional bearings in applications with low to moderate contamination levels.
"SKF continues to improve our products to provide OEM and end user customers increased reliability and reduced maintenance," says Keith Meyers, SKF's Global Industry Manager Mining, Mineral Processing and Cement. "This improves their productivity and the safety of their workers."