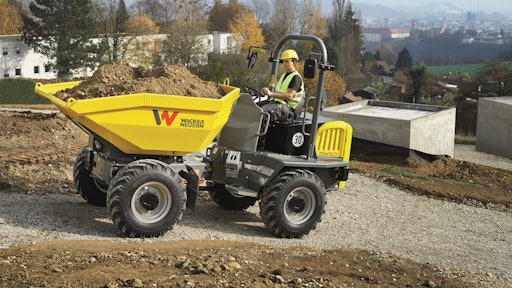 Wheel dumpers are replacing smaller trucks on many construction sites or are used to transport material in particularly difficult terrain conditions. Wacker Neuson has been among the market leaders in this segment for years and was able to make a mark with the presentation of its innovative dual view safety concept at bauma 2016.
The wheel dumper DW50 supplements the series of large wheel dumpers with hydrostatic all-wheel drive and ECO mode, which is characterized by good off-road capability and traction, especially in uneven terrain conditions, and includes four models in total (DW50, DW60, DW90, DW100) that were completely revised last year. The DW50 has compact dimensions, is extremely maneuverable and can hold its own with much larger models when it comes to performance efficiency and technology: an innovative operating concept for the control console, including joystick operation, the wear-free spring-loaded parking brake, which is durable and reliable, and many other details provide for the highest level of operating comfort. A 5-ton payload and travel speed of up to 28 km/h make the dumper an effective helper that can be used to move a great deal quickly. The wide and safe access to the operator's compartment is particularly user-friendly. The optimized bucket design, a back-up alarm and an optionally available front view camera, which compensates for blind spots, increase safety on the construction site.
The new dual view concept from Wacker Neuson promises even more safety through maximum overview, which was presented as a concept study for the first time at bauma. Dual view allows the operator to rotate the entire console by 180 degrees. This is made possible by a rotating assembly installed under the seat, making it possible to easily and quickly change the seat position in a few seconds.
To drive, operators can therefore simply leave the dumper's bucket behind them, creating the largest possible field of vision. By rotating the control panel, it is no longer necessary to turn around in the tightest of spaces, which takes time, and the operator always has an unobstructed view to the front. There are many features that will make construction sites much safer in the future.
Fit off-road and on the road
Overall, Wacker Neuson offers its customers 17 different models of track and wheel dumpers, which are in particular characterized by simple and safe operation thanks to the hydrostatic drive system. They can be used flexibly in order to meet individual customer needs. Especially in rough terrain conditions, the dumper is indispensable as a transport vehicle.