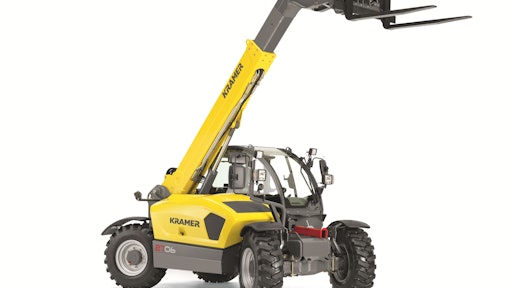 The 2706 was further developed and optimized as the successor model of the 2506. A new engine, an increased payload and numerous features make the telehandler an all-rounder in the compact class.
The compact telehandler 2706 is in the so-called 2x2 class, which means that the vehicle width and vehicle height are below the 2 m limit. This makes the machine of particular interest for applications in the main construction industry, industry in general, recycling, municipalities and rental.
The 55.4 kW Kohler engine (KDI 2504 TCR) is new and meets the requirements of the exhaust emission Stage IIIB with a diesel oxidation catalytic converter (DOC). The payload of the compact telehandler is an impressive 2.7 tons and loads can be lifted to nearly 6 m in stacking height.
Other interesting optimizations are the new hydraulic system with 90 L/min discharge volume, the electro-hydraulic pilot control and a load-independent flow distribution (LUDV) which allows for exact and gentle control. This makes it possible to execute several functions simultaneously: The operator can extend the telescopic arm, raise it and, for example, empty the shovel. Consequently, loading a truck is easier and increases the productivity of the machine. The efficiency of the sequences of operations could be optimized even further through new performance options: The telehandler offers an automatic bucket return, an adjustable oil volume for all hydraulic auxiliary control circuits and energy-efficiency LED work lights. Optionally available is the low-speed control function, which allows for optimized control, for example, of a sweeper through a constant driving speed with a pre-set engine speed.
Another safety feature is the new generation of the overload control "Smart Handling," now with three operating modes: bucket, stacking and manual mode. "Smart Handling" is a driver assistance system that provides for a tangible relief of the operator in daily work operation. Depending on the application, the operator can choose the appropriate mode, thereby greatly increasing efficiency and safety.
The free choice of the cabin height is also new: Nearly 2 m for the maximum compactness of the vehicle or 2.10 m for maximum comfort and an even better all-around view.