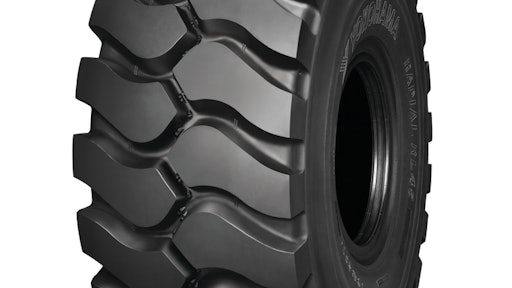 Keeping up with demand has become the name of the game for tire manufacturers over the last few years. Global demand for tires, especially in the BRIC countries (Brazil, Russia, India and China) has increased faster than the tires can be produced. "The market [in the BRIC countries] has been growing so strong that manufacturers haven't been able to keep up with the production and demand for [them] plus North America," says Gary Nash, Vice President of Off-the-Road Tires at Yokohama Tire Corp., Fullerton, CA. "We probably have over eight months of tires on back order."
He says over the past few months the company has been able to catch up and start reducing the amount of back orders, especially with the smaller size tires—from 35 inches and down. The larger sizes, however, such as the 51, 57 and 63 inch tires, are still heavily back ordered, which is the case for all manufacturers.
The Vice President of China-based Techking says all of the tire categories are experiencing some difficulty keeping up with production, except for agriculture, which was less impacted by the global economic slowdown that caused many manufacturers to decrease production.
Mining has become one of the most demanding markets for tire manufacturers. Jim Allen, Vice President of Sales at Titan Tire Corp., Quincy, IL, says new mines are opening and existing ones are reopening all over the world, making it a booming market. "It's been a white-hot segment of the marketplace for at least 18 months, and continues to be with commodity prices what they are. Mining is still very, very strong," says Allen.
On top of recovering from the global economic slowdown, tire manufacturers have had to deal with fluctuating material prices. Nash says within the last five years, the price of raw rubber has increased 200%, causing many manufacturers to raise tire prices in an attempt to offset those costs. The price of raw rubber has stabilized now, although that has caused the cost of synthetic rubber to rise instead.
Picking up the pace
Despite the challenges, tire manufacturers have found ways to increase their production capabilities and meet the needs of their customers. Some companies have invested in new or expanded facilities to better meet customer demand. Michelin North America, for example, broke ground on a new production facility in South Carolina, as well as began expanding its facility in Lexington, SC, to increase its production of earthmoving and other heavy-duty equipment tires. (Search 10690718 at oemoffhighway.com)
Titan has made significant investments to expand its Brian, OH, plant in order to keep up with the strong demand for mining tires the company has been facing. "It's going to take every bit of that capacity and then some to keep up with the orders that we have on hand and expect to receive shortly," Allen says. However, Allen notes that caution must be taken when deciding to expand production capabilities because while a segment such as mining can be white hot one moment, it can just as easily drop like a stone the next. "We take a very cautious approach to balance our capacity in our production capabilities with what we see is coming in the marketplace. It's a fine line," Allen says.
One way Yokohama has caught up on production has been through the reduction of SKU numbers. Instead of spending time making tires of which the company might only sell 20 throughout the course of a year, it is focusing its efforts on producing only the most demanded tires. "We're going to supply 80% of the most important tires that are normally purchased, and the other 20% we just more or less order at some point when we have open space," says Nash. "We've been able to gain some ground by concentrating on the most important sizes."
Yokohama has also made reductions in the types of compounds it offers for its tires. Instead of offering several types of compounds with various curing times, the company has developed a "one size fits all" compound. "We've tried to make one uniform compound suit all, which makes it [easier to] mass produce," because all of the tires the company produces can be cured for the same amount of time, Nash explains. While some companies might reduce curing times to speed up production, Nash says this can cause a tire to not perform as well as it should. By using one uniform compound for all of its tires, Yokohama has been able to increase production without sacrificing performance.
Bigger and better
Along with trying to increase production, tire manufacturers are being faced with the challenge of creating bigger and better tires to meet the increased load capacity requirements of today's vehicles. In mining, for example, workers now have to delve much deeper into the earth's surface to retrieve materials such as coal, gold or copper, which has led to longer haul roads. "[They] want to move more tonnage per haul," says Titan's Allen, "and that puts a tremendous strain on the wheels and tires."
Allen says Titan is in a constant improvement mode, working to improve tread compounds and base compounds to create the larger, more durable tires customers want. One such advancement has been the DTE4 Haul Truck Tire (search 10247119 at oemoffhighway.com). Released in early 2012, the tire has a deep lug tread pattern which increases heat dissipation and traction, enabling the tire to perform better in the harsh working environments common to mining applications. The tire also meets customer need for a larger tire, coming in sizes from 18 to 33.
On the agricultural side, Titan will be releasing three new tires from its IF (Increased Flexion) line (see sidebar, pg. xx). Allen says the concept for the IF tires is to carry a larger load without increasing air pressure in an effort to minimize soil compaction. "The demands from our agricultural customers are only going to increase in terms of minimizing soil compaction," says Allen. And just as the mining industry wants to haul more in fewer passes, agricultural producers want to process more acreage without increasing time in the field.
Yokohama has also been working to increase its tire size options by developing more radial products. Nash says the company is just about to begin mass production of the new 49-inch radial tire and is a year away from evaluation of its 3300R51 tire with mass production potentially starting as early as the second half of 2013.
Rolling into the future
Techking's Vice President says tire manufacturers are gradually moving towards replacing tubed tires with tubeless designs, much as radial designs replaced biased tires. Tubeless tires utilize an air-impermeable liner along the inner walls of the tire to keep it inflated. The elimination of the inner tube makes the tire easier to maintain, as well as lighter in weight than tube-type tires.
Mining will continue to be a strong market segment across the globe, as the demand for raw materials continues to rise. "The global demand for copper continues to increase," says Titan's Allen. "[And] regardless of the alternative energy sources that are becoming popular, coal is still a huge component in the world in terms of heating, power and electricity generation."
"When we look at markets today that will really grow, it will be in Mexico," says Yokohama's Nash. Mining in Mexico is showing strong growth due, in part, to the country's fewer restrictions on reclaiming properties after they're mined. In the U.S., on the other hand, once a site has been mined it must be brought back to 80% of its natural state. While currently Yokohama has not had enough supply to properly handle Mexico's market, Nash says this could improve with time, especially if the U.S. market rebounds quickly. If this happens, he says the company will concentrate more of its efforts into Mexico, Puerto Rico and other markets.
Nash says Yokohama's long-term forecasts indicate it will reach, if not exceed the peak production levels it saw in 2008 by 2017. "There are always peaks and valleys," says Nash. "[But] in 2017 we will be back where it was in 2008."
Companies in this article