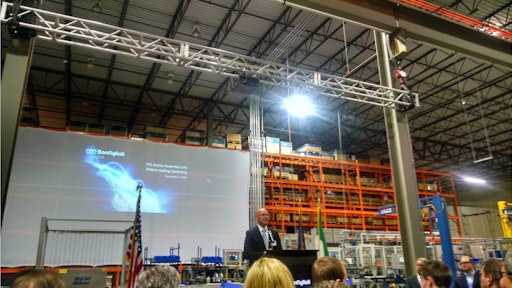 On December 4, Bonfiglioli USA held a ribbon cutting ceremony at its headquarters in Hebron, KY, for its new 700 Series assembly line. This is the company's first production line in the United States.
Greg Schulte, President of Bonfiglioli USA, stated during the event that this was a new adventure in localized manufacturing for the company. By now having a production line in the U.S., the company will be able to provide its North American customers shorter lead times on products and the potential to deliver products within one to two days.
During the ribbon cutting ceremony, Sonia Bonfiglioli, President and CEO of Bonfiglioli Group, said the new assembly line means the facility in Kentucky is no longer just a branch, but now a plant. "We want to be the best partner for our U.S. customer[s]," she said, and adding the assembly line will help the company achieve that goal.
The new assembly line is semi-autonomous which Schulte said will ensure the quality and reliability of the products it manufactures. In addition to the assembly line, Bonfiglioli will install a painting line so all aspects of the manufacturing process will take place in house.
Potential of the North American market
In 2002, Bonfiglioli identified North America as an area for strategic growth, said Fausto Carboni, General Manger Mobile and Wind Business at Bonfiglioli. He said it is the number one market in the world, and will continue to be so in the coming years. Having the new assembly line gives the company a legitimate presence in the country, he continued, better enabling Bonfiglioli to meet the needs of its customers.
The addition of the assembly line to the company's facility will immediately generate 42 new jobs. Carboni emphasized that these jobs will be good jobs in which the employees will have the opportunity to learn a new technology.
To continue meeting the growing needs of its North American customers, Carboni said the company is looking to further expand its operations in the U.S. over the next several years. Bonfiglioli would like to add more assembly lines for other product ranges and hopes to double its capacity at the Hebron, KY, facility.