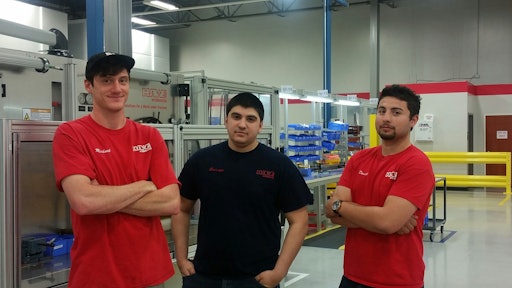 It's no secret that the off-road engineering industry is struggling to find new skilled labor to replenish the workforce. Industry associations and manufacturers are working together to draw attention to STEM education (Science, Technology, Engineering & Mathematics) and youth programs such as FIRST Robotics (learn more, 12015543) and Project Lead the Way (learn more, 10166525) to get kids interested in the sciences and aware of career opportunities.
But, what about the students that go on to college for a science or engineering degree but have no real world experience to leverage as a valuable potential employee for the off-road industry? At HAWE Hydraulik in Munich, Germany, it is common practice to employ apprentices in order to learn the trade from the ground up.
HAWE's North American headquarters in Charlotte, NC, was finding it increasingly difficult to find local workers with the hands-on experience necessary for hydraulics manufacturing and assembly. In 2012, the company took notice of the success of its parent company's apprenticeship program and sought out the opportunity to develop its own program to mutually benefit the company and the apprentices.
An educational program for mechatronic engineering offered by nearby Central Piedmont Community College was a perfect fit for the company's goals for the apprenticeship. From education to employment, the apprenticeship program is a three to four year program depending on the student's coursework per semester. The apprentices take a variety of courses including AutoCAD, Process & Mechanisms and Metrology. The classes are all applicable to the work place as the apprentices draw schematics, test pumps, calibrate equipment and assemble hydraulic components.
Now three years into the program, HAWE has three student apprentices who play an integral role in the production process. The apprentices are able to gain both hands-on experience in the fluid power industry, and, at the same time, obtain a degree in the mechatronics engineering program at Central Piedmont.
The program has been a great way for HAWE to attract qualified candidates for its production needs. "Not only are our apprentices skilled, but they are eager to learn," says Vontenea Williams, Marketing Specialist at HAWE Hydraulics. "We are within one year of our apprentices completing the program. In that time, both the apprentices and the company identified skill set niches that the apprentices excelled in, while working in a particular department. Over the past three years, the level of maturity, professionalism and pride in what they are tasked with continues to increase.
"We have also been an integral part of our apprentices' professional development and it has been a pleasure seeing our apprenticeship team learn and grow into their career paths."
While HAWE would like for all of its apprentices to stay with the company, it is not a requirement. As the program enters its final phases, the apprentices are encouraged to discuss their career goals with their managers. Any areas of operation that apprentices express interest in are noted and used to adjust their responsibilities and help ensure they take pleasure and pride in their work.
"The program is a means for HAWE to build a talent pipeline of technicians who are willing to grow with the company and become an integral part of supporting the value-added services we extend to our customers. In the long term, as we continue to grow, we hope to build on future apprenticeship opportunities based on the success we anticipate to have with our current apprentices."
HAWE highly recommends that other fluid power companies embrace apprenticeships as a way to increase the skilled labor pool and educate young adults in career fields they may not have previously considered. "The benefits to employers, employees and the industry in general are enormous," says Williams. "HAWE will definitely benefit from having young and innovative minds in the company."