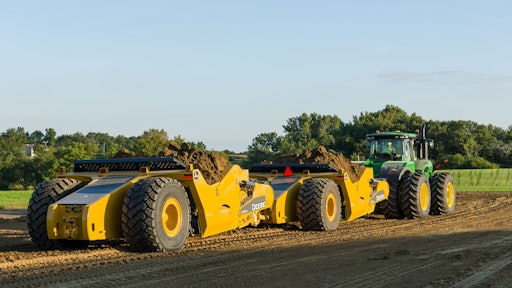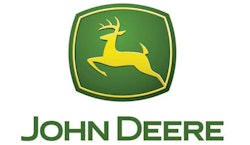 John Deere is updating its ejector scraper line with two and four wheel tire options to better serve earthmoving contractors. The 1612DE, 2010DE, 2014DE, 2412DE are designed for customers who require larger capacities, lower operating costs, faster cycle times and appreciate an extended warranty.
The ability to move more material and increase productivity helps contractors lower the cost per cubic yard of material moved. As such, added capacity is the number one customer requested product enhancement.
"The two tire and larger capacity scraper segments are growing fast and earthmovers expect a scraper system with more capacity for increased productivity, less complex hitching and attachment options, and stronger warranty coverage," says David Wilson, Product Marketing Manager, Scraper Systems, John Deere Construction & Forestry. "These new ejector capacities also convert more evenly into tons, making them compare well to articulated dump trucks while more closely aligning to self-propelled scraper capacity ratings."
Contractors looking for increased productivity on the jobsite will welcome greater floatation and reduced drag in wet, heavy clay conditions. Two tire options on the 2010DE and 2412DE models permit higher productivity and less wear in harsh conditions. The two wheels also allow quicker cycle times with less rolling resistance and drag, which can reduce costs per cubic yard.
The scraper systems also boast less complicated hitching and attachment options. This includes an integrated push block, Quik Attach Hitch and spill guard that feature fewer parts and are easier to configure and match – all saving time when using the equipment. A single, 60 mm hitch pin on all scrapers will dramatically reduce user complexity.
"John Deere ejector scrapers help contractors move dirt for one third the initial investment, half the labor, and offer up to 50 cents per cubic yards savings over self-propelled earthmoving equipment," says Wilson.
The new John Deere D-Series scrapers will also feature a best-in-class 12 month warranty.
Operators looking to get the most out of their tractors with 1612DE, 2010DE, 2014DE, and 2412DE pans can rely on Ultimate Uptime featuring John Deere WorkSight. With Ultimate Uptime, operators receive pre-delivery and follow-up inspections, and the ability to add additional dealer-provided uptime solutions to customize the package to individual needs.