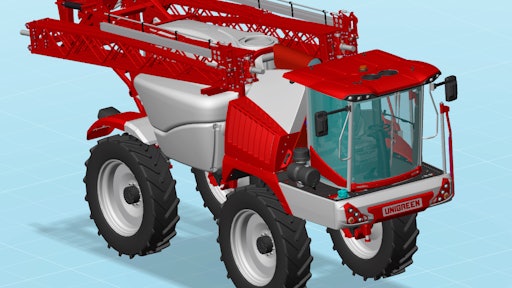 Tsunami, the new self-propelled sprayer by Unigreen (Maschio Gaspardo Group), was presented for worldwide preview at SIMA 2015 in Paris, held February 22 to 26.
Agility
Tsunami combines the benefits of a big tank with a stable and agile structure, equipped with an independent pneumatic suspension and coupling torsion, thanks to the four suspension system coupled to the thrust bearing, Tsunami ensures high stability in every condition.
High tensile steel frame
The Tsunami frame is made of high tensile steel, the basis for a long-lasting and light sprayer. The chassis is divided in front and rear sections, connected by a special bearing and all its parts are connected with bolts. The frame design and the new independent air suspension ensures the smoothest of rides and minimizes boom movement.
Big size for big achievements
Tsunami is a giant, measuring 8.75 m long and 3.95 m tall, with a tank capacity of up to 5.200 liters and boom up to 42 m in width. Indeed, the ground clearance is remarkable (1.60 m) and allows operation even in advanced plant growth. Huge, but also very agile: the sprayer steers with an internal radius of about 3.75 m.
The Cab
Tsunami cares also about the safety of the operator, guaranteed by the new cab class IV, with certificated ROPS structure: the cab is pressurized to avoid accidental inhalation of the product.
Maschio-ATS
Powered by an FPT 250 hp Stage IV engine Stage, Tsunami features the unique MASCHIO-ATS system: a new exhaust gas treatment device, developed by MASCHIO and approved by FPT.