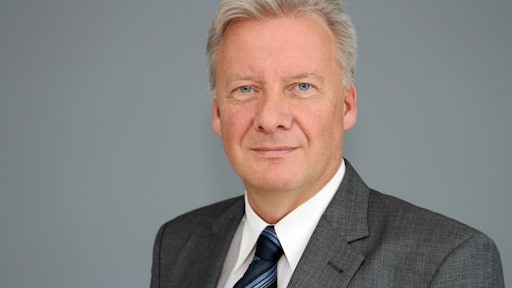 Responses from Udo Kneitz, Executive Vice President, ZF Off-Highway Systems
GLOBAL ECONOMIES
What economies are your primary international targets for new investments and continued growth?
In general ZF is well prepared to expand its global production and engineering footprint. It is important for us to assure access to local and global players in the Off-Highway industry within the scope of our integration strategies.
GOVERNMENT
What government regulations, standards or bills were passed in the past year that most affected the way you do business and go to market?
Emission Regulations e.g. in the US market, Europe or China are forcing OEMs to improve their vehicle drivelines and this is a development from which we as a technology leader in efficient driveline solutions can benefit from.
POLITICS
Are there any presidential platforms that you are aware of with the upcoming 2016 election that you are keeping your eye closely on that could affect your business?
If we are looking back you could say that in general election years where always economical good and prosperous years. So we are awaiting positive signals howsoever.
DIVERSIFICATION MARKETS
Has your company recently diversified into any new markets with its existing product portfolio?
With our CVT Technology we entered the forestry machinery market and we do see further growth potential for this technology in other sectors of the off-highway industry, like construction machinery (wheel loader applications) or material handling.
Any new products on the horizon for new markets to broaden your market reach?
We try to diversify our product range to reach the right market, the right customer with the right product. Hence we developed a "Best Choice Strategy" with Basic-, High- and Premium product lines. Looking ahead e.g. ZF Basic Power and future technologies like Hybrid and Electrification will complete the three technology-levels of this strategy.
TECHNOLOGY OF THE FUTURE
Are you seeing a shift toward overall part reduction and system simplification? If yes, how are you participating in this movement?
Standardization and reduction of costs is a key subject when we are talking about quality management. We are looking into cross-divisional production methods, on the one hand to reduce similar parts on the other to benefit from know-how of other ZF divisions. The challenge is to utilize the right approach of modularity to come to the right diversification and a modular product strategy.
Where are overall vehicle electrification and hybridization efforts taking us as an industry? Where are the technology lags that still need to be developed in order to reach the end goal?
We are investigation hybrid technology for a long time, also benefiting from our broad engineering base. But to introduce hybrid and electric concepts especially in construction machinery systems you need to improve and update the vehicle driveline components first. Only than the advantages of hybrid modules can really make a difference. So for us Efficiency improvement and CVT technology are the first steps we see in the industry before hybrid technology will kick in. In the agricultural machinery market, were auxiliary equipment plays a different and stronger role; we already have solutions for electrification in place.
What technologies on the horizon will affect your existing and future product development?
Connectivity, Electrification, Autonomous driving, CVT or independent suspension technology are already affecting our way of thinking and therefore our development approach.
Have you seen a shift toward smaller equipment? Is that effecting your product offerings?
Especially in the construction machinery segment the size of equipment is following urban infrastructure and its requirements on machinery. This will create a demand on more efficient and compact equipment in global cities.
What are the key customer requests that are most driving technology and vehicle development? How?
Improvement of Efficiency and fuel saving are still the most significant trends in the industry. Also overall performance of a machine, Total costs of ownership and productivity will have sustainable effects on driveline and vehicle technology.
INFORMATION TECHNOLOGY
How is your company participating in the information technology movement?
ZF Services are offering already today very advanced technologies in the field of remote diagnostics and telematics solutions. This is considering the trend towards Industry 4.0 including connectivity solutions, autonomous driving or master-slave applications.
EDUCATION
What education programs do you offer or participate in to help cultivate the next generation of engineers?
ZF has very good well working education systems in place. With 3 year apprenticeships we really prepare our workers for increasing complexity and demands on our production and assembly lines. Dual education and trainee programs give future ZF employees the chance to combine university studies with profound knowledge of our industry. For the youngest we established workshops where ZF employees try to convey the fascination of engineering and physics by crafting little windmills or potato-powered flashlights together with kinder garden and school kids.
CHALLENGES & HURDLES
What new challenges have arisen that effect the way you design or manufacture your product? How you do business? How you go to market?
I would say customer needs we cannot satisfy completely today. We always need to align our products, technologies and our way of thinking to the customers' requirements.