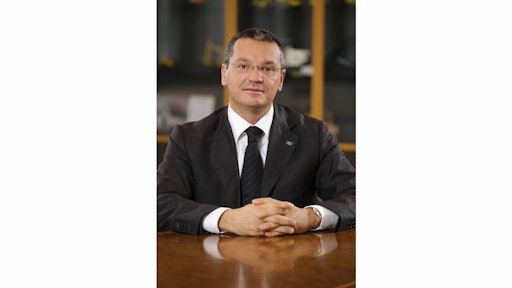 Responses from Fausto Carboni, CEO Business, Bonfiglioli Group
GLOBAL ECONOMIES
What economies are your primary international targets for new investments and continued growth?
As a supplier to OEMS, Bonfiglioli is interested in emerging markets where new equipment is being made such as India and China and in a different way, the United States. Brazil is also a target, even though the current economic circumstances are not perfect.
GOVERNMENT
What government regulations, standards or bills were passed in the past year that most affected the way you do business and go to market?
By and large, the most important government regulation affecting our business is the PTC for wind power. We have a very large market share in the wind energy industry (gearboxes for yaw and pitch), so anything supporting clean energy indirectly supports our business.
DIVERSIFICATION MARKETS
Has your company recently diversified into any new markets with its existing product portfolio?
We constantly try to find opportunities in markets which are not just technologies for our market, but are technologies for markets with different economic cycles. Lately, we have focused on developing more products for the oil and gas, including offshore and oil rigs. We also are focused on increasing our portfolio of products for electromobility (hybrid and electric technology for vehicles and equipment) as well as for larger gearboxes for heavy-duty applications like mining and sugar cane processing.
TECHNOLOGY OF THE FUTURE
Are you seeing a shift toward overall part reduction and system simplification? If yes, how are you participating in this movement?
We are definitely seeing a system simplification approach in industrial process automation, where more and more customers are trying to find a one-stop shop for the whole system. To meet this need we are enlarging our range of electronic controls and power electronics for industrial automation.
Where are overall vehicle electrification and hybridization efforts taking us as an industry? Where are the technology lags that still need to be developed in order to reach the end goal?
There is definitely a lot of opportunity for electric and hybrid technology. The big gap in technology, however, is more in the controls than in the electric motors. Controls are still relatively far away from being developed because in the case of construction machinery, for instance, the machines are very complex and have a lot of different movements to control. The features of electronic products need to be very reliable and sophisticated in order to withstand the harsh environments and there is still a little way to go on this.
Have you seen a shift toward smaller equipment? Is that effecting your product offerings?
Yes, because in the western world we do more maintenance than new construction and have a lot of capital to maintain, including roads in cities, where the equipment has to be small enough not to block a road or passage. Bonfiglioli has developed a very wide ranges of products in the last five to ten years, mostly for small utility equipment, which is extremely successful now due to this trend.
EDUCATION
What education programs do you offer or participate in to help cultivate the next generation of engineers?
For our team, we have several programs that give employees an opportunity to improve their skills in their area of expertise (engineering, for example) or that can familiarize them with other areas of the business (i.e., cross-functional training). We also have management training for those who are interested in promotion and growth within the company either in people management or project management.
We also offer internships and apprenticeships to students from local institutions and universities, for various degrees and areas of study. This is a long tradition at Bonfiglioli.
CHALLENGES & HURDLES
What new challenges have arisen that effect the way you design or manufacture your product? How you do business? How you go to market?
The volatility of the economy is always a concern, because things can go very wrong very quickly, and that is certainly a challenge, maybe a bigger challenge than in the past. On the other hand, things can also change in a positive way and new opportunities can come up. Globalization has certainly introduced a big change in the way we do business, and can affect our business very quickly.