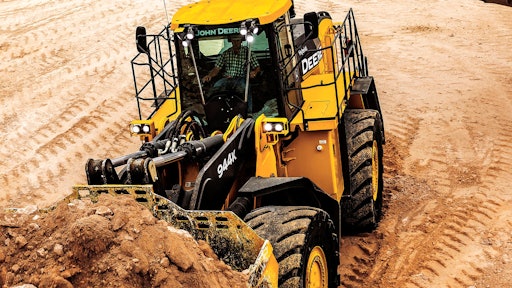 John Deere
When on-road diesel fuel prices spiked over $4 per gallon approximately 3 years ago, off-road manufacturers stepped to the plate with innovative solutions, including hybrid technology for earthmoving machinery and advanced powertrain systems. Some manufacturers have succeeded with this technology, while others never got past the prototype stage, or temporarily shelved their solutions as diesel fuel prices began a rapid descent—to around $2.31 for on-road diesel at the time this was written. So do hybrid and advanced powertrain technologies justify price premiums that can reach as high as 20% when fuel prices remain relatively low?
The answer really depends on the technology and its application. "At the end of the day, our customers want to make more money by getting jobs done faster and at a lower input cost," says Wes Holm, Chief Engineer, Caterpillar Medium Tractor Products. "So you have to weigh the importance of ownership period, productivity, cycle times, fuel efficiency, ease of operation, maintenance cost and emissions requirements offered by the advanced powertrains. Ease of operation shouldn't be overlooked as skilled operators become scarcer."
The increased performance that many hybrids offer is starting to gain prominence over actual fuel savings. "We expect the attitude toward hybrid technology to start taking a completely different twist," says Kurt Moncini, Senior Product Manager for Tracked Products, Komatsu America. "It is very important to look at what type of hybrid technology is used. Systems that return energy to the whole system instead of just the swing circuit provide performance that will factor in as a bigger benefit and fuel savings becomes the icing on the cake."
Moncini explains that evaluating ROI on hybrids depends on price, utilization, performance and fuel savings. Evaluation needs to be about more than just fuel savings, because fuel alone can be misleading. A 20- to 30-T excavator typically burns 3.5 to upwards of 7.5 gph depending upon utilization and application. If you have a high load factor application and can save 20% in fuel at 7 gph, that is a 1 gph savings. Multiply that by an 8-hour day at the current cost of diesel and the fuel savings alone would make a difficult case for ROI.
When you factor in a potential productivity advantage, the case becomes much clearer. "Looking at the electric swing drive/generator/ultracapacitor technology we used in the HB215LC-1 and the direction we will be taking with future models, that technology ends up providing more than just better fuel efficiency," Moncini asserts. "It gives us performance plus energy savings."
The list price premium for a John Deere 644K Hybrid wheel loader is about 7% compared to its conventional counterpart with a torque converter. While the hybrid reduces fuel consumption by about 25% on average, that is only part of the story. "Customers make it very clear they can no longer hire operators," says John Chesterman, John Deere Construction & Forestry. "They are getting 'drivers.'" The hybrid technology makes it much easier for a less skilled operator to run a wheel loader more productively.
Recapture wasted energy
Excavators are a natural target for hybrid technology since there is a lot of energy wasted braking the upper structure.
Komatsu was the first to introduce a hybrid excavator to the U.S. market. "We have an electrically driven swing that charges an ultracapacitor when decelerating and draws stored power for swing when required," says Moncini. "A generator/motor between the engine and hydraulic pumps can draw energy from the ultracapacitor to provide additional power to the whole hydraulic system for improved performance. The energy captured by the ultracapacitor helps boost engine power available for all functions."
"That captured energy input back to the hydraulic system can provide up to 60 additional horsepower, which is pretty significant, especially when it comes to a smaller four-cylinder engine," says Justin Latin, excavator product marketing manager, Komatsu America.
"On the HB215LC-1, we actually went to a smaller engine and use stored electrical energy to supplement the total power input to the hydraulic system," says Moncini. "It is the same approach as used on high-performance hybrid cars. They use electric motors to add power to a traditional mechanical drivetrain for better performance."
This shows up in the machine's response. "My initial perception of the HB215LC-1 was that it was a very peppy or snappy machine," recalls Moncini.
Looking forward as technology improves, there is a definite opportunity to scale hybrid technology up to larger models. "Today, if you look at smaller machines—which is where our hybrids are—they tend to be lower in annual usage and consume less fuel," notes Moncini. The situation could become even more favorable toward hybrids as you move to larger machines that consume more fuel and have higher utilization rates. "Komatsu intends to introduce a larger hybrid excavator in the U.S. later this year."
Komatsu Europe introduced its HB365LC-3 36-tonne hybrid excavator at bauma 2016 featuring a 20% fuel savings. The HB365LC-3 has the same SAA6D114E-6 engine (202 kW/271 hp) as the PC360LC-11, with up to 53 kW extra electric power supplied by Komatsu's hybrid system.
The kinetic energy generated during the swing-braking phase is converted to electricity, which is sent through an inverter and captured by the Komatsu Ultra Capacitor. When accelerating under workload conditions, the captured energy is discharged quickly for upper structure rotation and to assist the engine as commanded by the hybrid controller. The reserve power stored by the hybrid technology represents additional horsepower that is available to maximize machine performance by supporting the engine, or is used for swing power .
The type of application also has an impact on the economics of excavator hybrid technology. "If you look at typical excavator applications, hybrid systems really come into play when you are swinging more than 90 degrees," says Moncini. "In a traditional earthmoving job, if you are swinging 90-180 degrees, that is not a very efficient way to move dirt. You want to be between 45 and 90 degrees." Typically, above-ground operations with a large repetitive swing cycle are most beneficial for a hybrid model.
Caterpillar spent years developing and testing both electric and hydraulic hybrid technologies prior to introducing its hydraulic hybrid excavator in 2013. It says the electric hybrid option would have required special technician training on the unfamiliar electronics and battery storage system. In comparison, the hydraulic hybrid components are familiar to standard machines and easy to maintain.
"The primary reason we introduced our hydraulic hybrid is because it lowers customer owning and operating costs while maintaining the same high level of production as our standard 336," says Brian Stellbrink, Caterpillar Excavator Product Application Specialist.
He points out that the 336 hybrid has three ingredients contractors can think of as "conserve, optimize and reuse." It conserves fuel with the use of a high-efficiency pump. Performance is optimized with Caterpillar's Adaptive Control System (ACS) valve—the "brain" that puts the energy where you need it when you need it. And it recovers and reuses otherwise wasted swing energy through the use of an accumulator.
"Considering an excavator typically stops and swings every 15 seconds in a high-production application, there is a significant opportunity for energy savings," says Stellbrink. "But customers in any application—including utility applications—will benefit from the 'conserve' and 'optimize' elements."
According to Stellbrink, the bottom line is that Caterpillar's hydraulic hybrid excavator is less complex and less costly than other hybrid technologies, thereby resulting in a shorter time to recoup upfront costs.
"You save money with either high or low fuel prices because our hydraulic hybrid excavator burns up to 20% less fuel than our standard model," he says. "We have a calculator for contractors to see for themselves how quickly they can achieve a return on their investment."
Combining hydrostatic and mechanical drives
New driveline technology takes advantage of the strengths and efficiencies of both hydrostatic and mechanical drives.
"The Liebherr XPower loaders possess a power-split transmission, which combines two drive paths: a mechanical path for acceleration and traveling long distances, and a hydrostatic path for loading and gear shifting," says Nick Rogers, Product Specialist, Liebherr USA. "With the integration of this transmission, we are able to achieve maximum efficiency out of every drop of fuel."
Power supplied by the diesel engine is split via a planetary gearbox to a hydrostatic branch and a mechanical branch. The two branches are then combined again so that full performance is available. During operation, the ratio between the two branches is variably adjusted. Comparative tests have shown that XPower wheel loaders require up to 30% less fuel than conventionally driven wheel loaders.
Caterpillar added a continuously variable transmission (CVT) to the 966 and 972 wheel loaders that combines mechanical and hydrostatic systems. The XE version of the 966M and 972M loaders with CVT provides up to a 25% improvement in fuel consumption versus the current series, and over 35% versus previous generation machines.
The CVT replaces a traditional driveline's torque converter with a hydraulic pump and motor (variator), which allows for smooth, continuous ratio changes between engine speed and machine speed. Power is transmitted through the CVT in a parallel mechanical path, much like a power-shift transmission. It is combined with variator power through a series of planetary gear sets. Transmission operation is automated and transparent to the operator.
"The main fuel savings are accomplished by two distinct features," says Lucas Sardenberg, Caterpillar Medium and Large Wheel Loader Marketing Consultant. "First, the new transmission replaces the torque converter in the powertrain. Torque converters are very inefficient, especially during the dig portion of the cycle. If you focus on the dig cycle alone, the fuel benefit of an XE is as high as 50% over a conventional transmission.
"Second, the new technology allows the engine to run at lower rpms as compared to a regular powertrain," he continues. "In addition to lower engine rpm, Caterpillar matched the hydraulics to provide full implement speed at lower engine speed, so the whole system works together to maximize efficiency while keeping the productivity demanded by customers."
Machine momentum during slowdown — for instance, when approaching a truck or a hopper — is also used to power implements and the fan, further reducing fuel consumption.
Calculating the ROI on the CVT is complicated because it depends on the application, hours of operation per year and the model of machine replaced by the XE technology. "On the low end with less than 1,500 hours annually and fuel savings of 0.5 gph, payback is more than 4 years," says Sardenberg. "However, with 3,000 hours per year and a fuel savings of 1.5-2.0 gph, the payback can be shorter than 2 years."
He adds, "It is important to stress the comparison to the equipment being replaced. More than one customer replaced larger machines by XEs, thus payback was really short due to the fuel savings. Another important point to consider is that the XE technology can bring other benefits aside from fuel alone, with ease of operation with only two pedals being a major one noticed by operators, and also hill-holding capability and retarding."
Electric drive optimizes power band
Certain machines, like the Caterpillar D7E diesel-electric dozer and John Deere 644K Hybrid and 944K Hybrid wheel loaders, have benefited by moving to electric drive. Because the diesel engine basically acts as a generator, it can be optimized to run at a set speed. Engines that run at constant speeds have much longer lives than those that are continually hunting up and down the rpm range to make power.
The John Deere 644K and 944K Hybrid loaders use hybrid electric drive, which results in greater ease of operation. A conventional torque converter-equipped wheel loader requires the operator to perform a balancing act. "The engine speed really controls how hard the machine pushes," explains Chesterman. "As [operators] step on the accelerator, they are basically telling the engine to rev up, but at the same time, the engine speed is proportional to the speed of the hydraulics. As I go from the typical 1,200 engine rpms to 1,800 rpms, I have 33% faster hydraulic speed."
Filling a bucket requires coordinating all of the inputs. "In a typical bucket load, roughly half of the fill of the bucket is literally the bucket pushing into the pile," says Chesterman. This needs to be done without spinning out. "If the operator cannot effectively push that bucket into the pile, he will have a very hard time just trying to use the boom and the bucket to roll material into it. This is a skill that a good operator develops."
The electric drive greatly simplifies the demands on the operator. "We can control those electric motors extremely fast with solid-state electronics," says Chesterman. "That allows us to control the smoothness of how the machine shifts during reversals." It also allows the wheel motors to rapidly switch from providing power to the wheels to recovering energy and putting power back into the system.
The electric wheel motors control traction and prevent slip, while the engine always runs at a constant speed, providing full hydraulic power at all times. "With our hybrid technology, speed has nothing to do with pushing power," says Chesterman. "One of the great benefits of electric motors is they essentially have their maximum torque at near-zero speed. For the lower skilled operator, they don't [have to maintain] that balancing act with the engine speed, power range and hydraulics. They just need to step on the pedal."
Plus, the loader is much more efficient when loading. Consider that when a conventional 644K loads a bucket, the engine is at full load rated torque. "It is at maximum fuel delivery rate during that peak work cycle just to load the bucket," says Chesterman. "On the hybrid version, the engine is at about 25% load. That comes back to the very high efficiency of the electric drive system to develop very strong pushing forces at low loads compared to a powershift torque converter."
Caterpillar says the D7E dozer will move more material per gallon of fuel, burn up to 20% less fuel, improve productivity 10% and reduce lifetime operating costs by 10% compared to the D7R Series II.
The D7E's electric drivetrain generates high torque at low speeds. Because there are no friction clutches, driveshafts or belts—and fewer parts overall—it more efficiently transfers engine power to the ground. And with no gears, there are no peaks and valleys in powertrain efficiency. The continuously variable electric drive is efficient over the entire operation range.
"Fuel savings is the easiest to measure on payback, and higher fuel prices make for a quicker payback," says Holm. "We estimate that our D7E customers worldwide have saved over 9 million gal. of diesel fuel since the machine was introduced. So if you are looking at $2.60 diesel, that's more than $23 million back to the customers' bottom line."

Factors that go into the overall ROI include the application, materials, environmental requirements for the jobsite, operating technique, etc. "We've had some customers report that they're burning half the fuel they were using for the same job with an older machine. That's a substantial payback, regardless of the price per gallon," Holm states.
"You can move up to 35% more material per gallon of fuel," he continues. "The machine is easy to operate, so even less experienced operators can achieve better productivity. That all translates to more house pads per day, more miles of road in a week, more trash moved in a landfill and a more precise job."