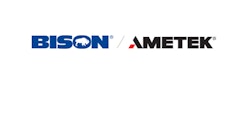 AMETEK Dynamic Fluid Solutions and the former Bison Gear and Engineering Corp. has combined to create a more robust, customer-centric business named Bison. The newly created Bison, a business of AMETEK, Inc., will provide a broader range of high-quality products, unparalleled customization and integration support, accelerated time to production and global manufacturing flexibility.
For more than 100 years, AMETEK DFS has designed and manufactured quality fluid-moving and mechanical drive solutions tailored for a variety of applications. Its brands include: Lamb Vacuum Motors, Nautilair Combustion Blowers; Prestolite Motors Brushed DC Motors; ROTRON Regenerative Blowers; ROTRON Transportation Pumps and Motors; and Windjammer Brushless Blowers.
For more than 60 years, Bison Gear and Engineering Corp. has designed and manufactured reliable and durable fractional and integral horsepower electric motors, gear motors and reducers, washdown motors and a variety of accessories.
The combined companies bring together hundreds of years of cumulative design expertise. The newly consolidated engineering team understands application technology challenges and provides customers with dedicated, tailored solutions in a greater number of markets and use cases.
Bison engineers will continue to leverage their application and market knowledge to integrate customized solutions seamlessly into customers' subsystems, ensuring that end products not only function properly, but that performance is also optimized.
With three state-of-the-art-engineering laboratories in Kent, Ohio; Shanghai, China; and St. Charles, Illinois, Bison is equipped to help customers accelerate time to production by expediting performance tests, agency qualifications and rapid prototyping.
Though the blended business unit is headquartered in Kent, Ohio, Bison brings global insights to customers through an international network supported by global sales offices and research facilities.
Additionally, customers have expanded global manufacturing options for better lead times and support. Bison -- the newly created AMETEK business – manufactures products in AMETEK facilities in Whitsett, North Carolina and St. Charles, Illinois, in the United States as well as in Reynosa, Mexico and Shanghai, China.
A consolidated website will be launched soon.