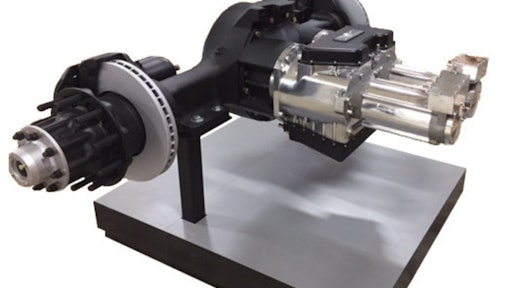 Wrightspeed Inc., the leading manufacturer of heavy-duty Range-Extended Electric Vehicle (REV) powertrains, announces that it has partnered with AxleTech International, the leading manufacturer of heavy-duty specialty drivetrain systems. The partnership integrates decades of axle engineering experience into Wrightspeed's electrification technology to meet growing demand from the company's world-class customers and partners, including Mack Trucks and New Zealand Bus (NZB).
With the challenge of providing low-emission transportation, Wrightspeed has solved the problem of reducing emissions in heavy transportation with its first-in-kind innovation, the Route REV powertrain. Wrightspeed's complete powertrain system, featuring regenerative braking and a range-extending turbine generator, the Fulcrum, enable heavy-duty electric vehicles to operate as efficiently as possible. Recently recognized as a 2016 World Economic Forum Technology Pioneer, Wrightspeed will now leverage AxleTech's exceptional expertise in engineering and manufacturing to accelerate commercial deployment of its multimodal REV Route powertrain. Wrightspeed's GTD (Geared Traction Drive) pairs with a custom axle from AxleTech International, designed to accommodate Wrightspeed's super duty final drive gear. The custom axle-outfitted GTD unit will be featured in the Mack Trucks booth no. 2526 at the WasteExpo conference.
"Together AxleTech and Wrightspeed are providing spectacular technology to the market, and our partnership plays to our respective strengths," says Jason Gies, Business Development Manager at AxleTech.
The announcement comes as Wrightspeed rapidly expands its supply chain team, bringing on experts with experience at Tesla Motors, Ford, Cummins, and others to meet strong demand for new powertrain technology. Wrightspeed is scaling its operations to meet international interest, including from the largest operator of urban bus services in New Zealand, NZB, as well as continuing its work with Sonoma County recycling leader, The Ratto Group.
"Our strategy at Wrightspeed leverages world-class suppliers for components that we've designed and specified for our integrated powertrain technology," says Ian Wright, CEO and founder of Wrightspeed. "AxleTech is a proven leader in developing axles for vehicles with the most challenging drive cycles in the world, and, in partnering with them, we get proven quality components and manufacturing expertise, while keeping our team focused on innovation."
Companies in this article