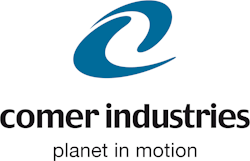 42046 Reggiolo (RE) Italy
Via Magellano, 27
Reggio Emilia 42046
IT
Comer Industries is a global leader in the design and production of advanced engineering systems and mechatronic solutions for power transmission, supplied to major manufacturers of agricultural machinery, construction equipment, industrial and renewable energy applications worldwide.
Founded in 1970, the company has progressively broadened its initial offer of transmissions for farm machinery to mechatronic solutions and products for industrial and off highway applications, to ensure customers added value and competitive advantages in the path to excellence.
Comer Industries Headquarters is based in Reggiolo (Reggio Emilia), Italy. Sales of products and customer support is entrusted to a direct sales organization, consisting of 3 divisions, each focusing on a specific market segment: Agricultural Applications, Construction Equipment and Forestry, Energy and Industrial. Comer Industries also operates in major foreign markets with its own sales subsidiaries in the United States, China, Germany, France and the United Kingdom. Since September 2013 a new subsidiary has been operating: Comer Industries do Brasil.
New product development is supported by the Research & Development Dpt., which has technical design offices in Reggiolo (Reggio Emilia, Italy), Cavriago (Reggio Emilia, Italy) and in Shaoxing (China). To develop and test advanced product solutions, Comer Industries relies on its Mechatronics Research Center, established in 1996 at the Headquarters and equipped with the latest technologies and experimental tools.
Industrial operations in Italy are structured in four Operating Units, specialized by product line: Gearboxes, Driveshafts, Planetary Drives & Axles and Comer Industries Components – with four production sites located in Italy, in the provinces of Reggio Emilia, Mantua and Matera. In China, where the company has a consolidated presence since more than 20 years, the Operating Unit in Shaoxing (Zhejiang province) has been manufacturing transmissions for agricultural and wind applications since 2008.
Comer Academy, the in-house management school, born to promote cultural growth, enhances employees' technical and managerial skills through training programs and attracts young, creative talents.
Request More Information
Fill out the form below to request more information about
Comer Industries S.p.A.