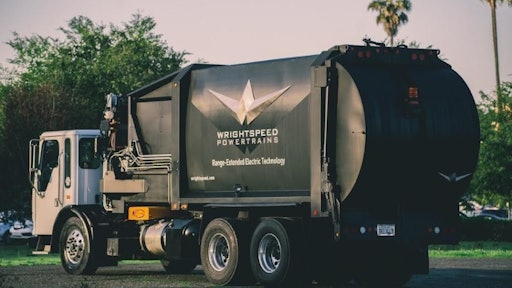 At a press conference held in Sonoma County on November 2, Wrightspeed—the leading manufacturer of range-extended electric vehicle (REV) powertrains for heavy-duty applications—and The Ratto Group— a Santa Rosa-based refuse, yard waste and recycling collection and processing company—unveiled a new era for the global refuse and transportation industries: the first commercial application of a range-extended electric refuse truck.
With the support of the Sonoma County Board of Supervisors, communities in Sonoma and surrounding counties will be serviced by a fleet of clean, quiet trucks from The Ratto Group, powered by Wrightspeed's award-winning, range-extended powertrain known as The Route. Designed to deliver economic, environmental and performance benefits in both OEM-installed new vehicles and existing fleet retrofits, The Route is a scalable solution that has been recognized by The State of California for its ability to help meet progressive climate and air quality mandates. Wrightspeed was awarded $7M in grants by the California Energy Commission to further develop the technology for broad-based adoption.
After brief comments from Sonoma County Chairman of the Board, Efren Carrillo; Chief Operating Officer of The Ratto Group, Lou Ratto; and Founder and CEO of Wrightspeed, Ian Wright; attendees had the opportunity to see Sonoma County's elected officials ride and drive in the first Wrightspeed-retrofitted, commercial vehicle, a Freightliner Condor, Class 8 refuse truck.
"Today is a milestone for Sonoma County in terms of improving local air quality and upholding environmental standards," said Carrillo. "As a government entity, we have led with innovative programs to reduce greenhouse gases, from the Sonoma County Energy Independence Program, to Sonoma Clean Power and Evergreen, to a nationally recognized Green Fleet, and the Water Agency's Carbon Free Water program, and our Regional Climate Protection Authority. Sonoma County citizens have shown their high interest and support for innovative solutions that benefit our greenhouse gas reduction goals. We applaud Wrightspeed and The Ratto Group for their commitment to innovation and for blazing a path for the future of solid and compostable waste, as well as recycling in Sonoma County and beyond."
The Ratto Group's fleet of refuse, recycling and compostable yard waste trucks services over 140,000 customers in Sonoma County, Mariposa County, the City of Novato, and West Marin. After this unveiling, Ratto and Wrightspeed will roll out more than 15 Route-equipped trucks over the next 12 months to meet community needs.
"In a business that puts a premium on re-use, this represents the ultimate in recycling. We're literally recycling the recycling truck," said Ratto. "By integrating Wrightspeed's powertrains into our existing commercial fleet, we're initiating a progressive solid waste and recyclables collection strategy that will maximize the life of our vehicles, cut fuel consumption and emissions, and have a positive environmental impact on our service areas."
"As an early adopter of our powertrain technology, Lou Ratto has solidified Sonoma County as a leader in pioneering new technologies that will improve and preserve the region for future generations," said Wright. "We're proud to collaborate with Lou and his team and to establish our powertrain technology as the economical and environmental choice for cleaner, quieter and more efficient communities."