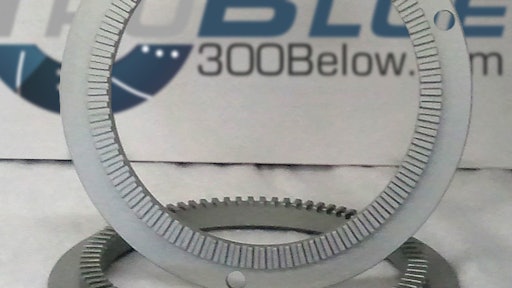 At the Work Truck Show 2012 in Indianapolis, 300 Below Inc. announced its new anti-rust ABS tone ring for Workhorse W-42 and W-62 model trucks.
The new ABS tone ring has passed a salt spray test of 1,000 hours. "Our breakthrough ABS ring provides fleets with added safety and security of reduced ABS failure in the field due to rust," says Peter Paulin, CEO of 300 Below. "ABS tone ring rust has become a major issue all across the northern tier of the United States and Canada do to the increased usage of ice reducing compounds by state and local road crews. These compounds promote rust on truck parts including the ABS tone ring. We are excited about this breakthrough.
"Our customers were asking us to solve this major headache for their truck fleets and fleets nationwide. We are happy not only to find a solution, but one that will help provide safer vehicles and reduce the number of rotor changes required."