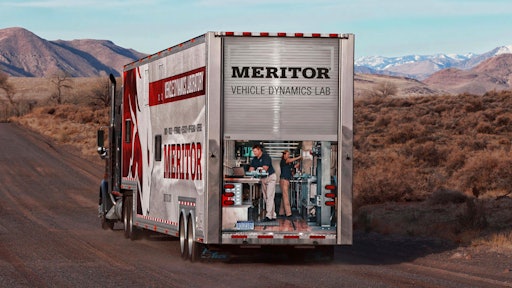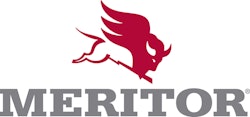 Meritor Inc. offers unique capabilities with its Vehicle Dynamics mobile laboratory. Traveling throughout North America, various products and capabilities are tested on location including:
Truck and Trailer: SMARTandem axle, tire inflation systems and drum and air disc brake development;
Specialty and Off-Highway: Adaptive damping systems for off-highway seats, as well as bus and fire truck suspensions;
Defense: The ProTec High Mobility Independent Suspension (HMIS), adaptive damping systems, tire inflation systems and suspension height control are tuned for best performance in the specific combat environment in which they will be used.
"Meritor's remote testing capabilities are critical to product development," says Tim Burns, vice president and general manager, Defense & Specialty, Meritor. "The lab allows us to provide on-site support at U.S. Government and independent test sites across North America. The lab's vehicle test data acquisition capability reduces development time by allowing immediate optimization of ride and handling characteristics so we can tune the products to best fit real-world environments."
Meritor's Vehicle Dynamics laboratory is outfitted with advanced chassis development equipment including two shock dynamometers, a 50-ton press, a coil spring compressor for oversized military high-rate springs, a large wet bench and alignment equipment. It also has video equipment for documentation and is connected directly to the company's Development Center in Troy, MI, through a wireless network.
"This direct link allows data transmission back and forth for additional analysis by the vehicle dynamics and controls teams. The information is correlated on the full vehicle simulator in the Troy test lab, which further proves product performance and capabilities," says Simon Dean, senior director, Advanced Engineering & Electronics, Meritor. "Combined with our technical expertise in Troy, the lab's vehicle test data acquisition capability allows us to deliver the most advanced products with world-class quality while meeting the needs of our customers."
The company recently redesigned its Vehicle Dynamics laboratory trailer with a new graphic wrap that looks like the rear door is open and employees are hard at work inside – earning it recognition by Fleet Owner magazine in its 2012 vehicle graphics awards highlighted in the June issue.