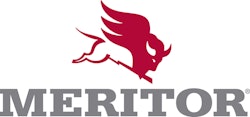 Jon Morrison, president and general manager, Meritor WABCO made remarks pertaining to "Innovation ROI" during the Commercial Vehicle Megatrends USA 2012 conference in Dearborn, MI, at The Henry.
Morrison's remarks emphasized the potential return on investment for operators leveraging four main areas of innovation: improving driver and highway safety; increasing vehicle uptime; avoiding accidents and increasing fleet efficiency.
Morrison confirmed that Meritor WABCO's SmarTrac Electronic Stability Control (ESC) technology ensures that truck tractors and motorcoaches can meet the stringent standard for ESC systems as recently proposed by the U.S. Department of Transportation's National Highway Traffic Safety Administration (NHTSA).
Citing a study by the University of Michigan Transportation Research Institute, Morrison said there are approximately 6,900 rollover accidents involving 200 fatalities annually. The use of ESC technology could help drivers avoid up to 56% of rollover crashes each year – the deadliest among all crash types, according to NHTSA research.
Morrison added that integrated safety systems offer several advantages including reduced vehicle downtime, risk reduction and assistance for less experienced drivers.
Meritor WABCO has a track record of being first-to-market with breakthrough safety innovations that save lives and improve vehicle performance, and Morrison shared further information on the next-generation OnGuard Plus collision mitigation system. OnGuard Plus reacts to moving vehicles and decelerating vehicles ahead that come to a standstill. Its emergency braking can help the driver bring the vehicle to a complete stop. In case of stationary vehicles ahead, the system warns the driver and autonomously applies partial braking. This advanced safety function is the industry's only innovation of its kind in North America.
"At Meritor WABCO, we are on the leading edge of safety technology that helps to reduce accidents and potentially save lives, as operators strongly benefit from additional returns on investment in innovation such as saving money through risk reduction," Morrison said. "ESC and OnGuard Plus further demonstrate why Meritor WABCO leads the industry in the number of breakthrough technologies in North America, resulting in stronger safety and smarter efficiency for commercial vehicles."
Companies in this article