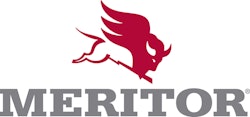 Meritor Inc. honored 18 companies on November 12 as recipients of its second annual North America Supplier Partner Awards during a ceremony at the company's headquarters. The suppliers, which serve Meritor's plants in North America, achieved excellence in quality, delivery, cost savings and innovation in fiscal year 2015.
"We're thanking our suppliers for helping us meet customer demand during the upturn in North America's commercial vehicle market," says Jon Rose, Vice President, Procurement for Meritor. "Each of these companies demonstrated a commitment to excellence in 2015 that supported our performance targets this year."
The following companies received a 2015 North America Supplier Partner Award for providing a variety of components, materials and services to Meritor: 
Active On-Demand 
Alumalloy Metalcasting Co. 
Atkinson International, Inc. 
Duferco Steel, Inc. 
Fastenal Co. 
Freudenberg-NOK Sealing Technologies 
Ganton International, Inc. 
Griffin Industries 
HOTA Industrial Manufacturing Co. Ltd. and SOLO World Partners 
Intercon Carriers, L.C. 
LC Manufacturing, LLC 
Nanjing Spring Co., Ltd. 
National Material, L.P. 
Pentaflex, Inc. 
SourcePRO, Inc. 
Vision Information Technologies, Inc. 
Westport Axle Corp. 
Zhumadian CIMC Huajun Casting Co., Ltd.
During the event, plant managers and other leaders from facilities across North America honored and validated recipients' work in customized, 30-second videos that were played during each award presentation. 
Companies in this article