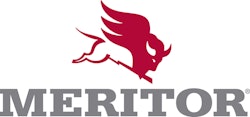 Meritor Inc. announces a one-year extension of "Shoes for Soldiers" and will donate up to $70,000 from remanufactured brake sales and corporate matching funds to a foundation that helps position severely wounded, injured or ill veterans for success.
Meritor will donate $50,000 from remanufactured brake shoe sales in addition to a $20,000 match from the Meritor Trust Fund to the Wyakin Warrior Foundation, which helps the veterans transition to leadership roles in business, government and their communities. Veterans participating in the Boise, ID-based foundation's comprehensive program are pursuing degrees in many areas, including engineering, business, law, criminal justice, education and computer science. In 2015, "Shoes for Soldiers" generated $30,000, in addition to a $20,000 match from the Meritor Trust Fund.
"The program has been well-received by our aftermarket customers, who understand the need among wounded veterans is great," says Tim Bauer, Director, Remanufacturing for Meritor. "Through 'Shoes for Soldiers,' we're expressing our appreciation for the sacrifices veterans have made for all of us by helping Wyakin prepare them for a future they deserve."
Marty Hetherington, Manager, Brand and Marketing, Aftermarket for Meritor, adds, "Meritor extends this challenge to other leaders within the heavy-duty truck and trailer aftermarket business. We'll continue to identify further initiatives to increase donor support for our severely wounded warriors."
More than 51,000 members of the armed forces have been seriously wounded or injured in combat since the 9/11 attacks on the World Trade Center, according to the Wyakin Warrior Foundation. Sixty percent of post-9/11 disabled veterans are unemployed or have dropped out of college.
The foundation's 60-month program includes educational and financial support, monthly professional development seminars, community service projects and networking opportunities for job placement. Thirty-one veterans are currently enrolled in the program. Seven have graduated since the program began in 2011. All alumni were placed in jobs within three months of graduation, according to Wyakin. The annual program cost is $6,000 per participant.
"Meritor's generous contribution will have a significant impact on the foundation's ability to help position our veterans for personal and professional success," says Marv Hagedorn, Executive Director for the Wyakin Warrior Foundation and an Idaho state senator. "Our veterans participating in Wyakin Warriors will benefit greatly from Meritor's generous contribution as they position themselves for success."