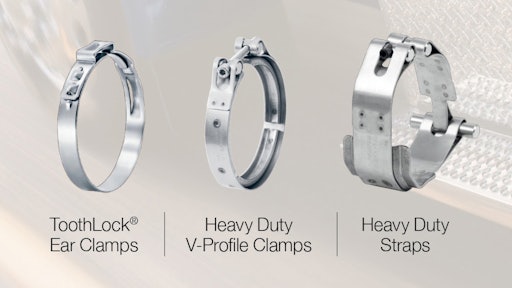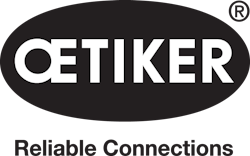 Oetiker Inc., announces its heavy-duty truck line of highly engineered clamping and connection solutions is now available for the first time in North America.
Fully supported by Oetiker's local product development, prototyping and sales teams, the company now offers its OEM and Tier customers the heavy-duty truck industry's most comprehensive line of reliable connecting solutions, ensuring only the highest performance of these mission-critical vehicle components for powertrain, drivetrain and tank fastening applications.
Currently, Oetiker supports its full heavy-duty product lineup throughout North America, including but not limited to:
Heavy-Duty V-Profile Clamps
Up to 25% increased sealing capability compared to conventional V-Profile clamp designs
Engineered to suit specific profile geometry for optimum axial load distribution
Heavy-Duty Fuel Tank Straps
Custom engineered with materials, coatings and liners carefully chosen to meet strict technical and assembly requirements
Solutions offering flexibility, durability and consistent mechanical performance exceeding vehicle design criteria
Diesel Exhaust Fluid (DEF) Tank/Air Straps
Meets mechanical and finish requirements on after-treatment systems
Compatible with polymeric or metallic materials
Coolant Hose Connections
Offers application-specific solutions, delivering superior sealing integrity and assembly efficiency
With robust, leak-free connections, the Multi-Crimp Ring provides the highest radial load and most uniform compression of any sealing solution
"We are pleased to bring our full engineering and support team comprised of highly expert individuals who bring unique clamping solution experience and insights to North America," says Patrice Bansa, Marketing Director, Americas, Oetiker. "We are focused on not only bringing peace of mind to the heavy-duty market, but exceptional quality, services and easier-to-assemble solutions."
Oetiker's commitment to the heavy-duty market is supported through its 360 Degree Solution Approach with its OEM and Tier suppliers around the world. The company's capabilities span the spectrum from concept to prototyping and testing through assembly. With unparalleled follow-up maintenance, services and start-up support, Oetiker's engineers and technical sales support teams advise on connecting solutions that meet the most challenging vehicle specifications.