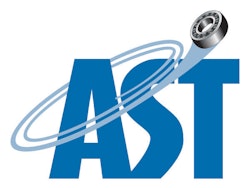 AST Bearings, an international supplier of bearing products and services, has earned recognition as a Partner-level Supplier for 2010 and was also inducted into the Supplier Hall of Fame in the John Deere Achieving Excellence Program. The Partner-level status is Deere & Company's highest supplier rating and was awarded to AST Bearings for outstanding supplier performance. The prestigious Hall of Fame status is only given by Deere after a supplier attains a Partner-level rating for five consecutive years.
Based in Montville, NJ, the company was selected for these awards in recognition of its dedication to providing products and service of outstanding quality as well as its commitment to continuous improvement. The awards were presented to Dale Kaminski (CEO), Dan Fox (VP, Sales & Marketing), and Mark Davis (Regional Sales Manager) during formal ceremonies held on March 1, 2011 in Davenport, IA.
AST Bearings earned their distinction as a supplier of bearings to the Agriculture & Turf and the Construction & Forestry divisions of John Deere operating in Moline, IL, and Davenport, IA, respectively.
"AST is very proud to have been awarded this prestigious honor by one of our valued customers," says Dale Kaminski, AST Bearings' CEO. "Our goal is to provide all of our customers 'value beyond the part.' In this regard, the awards we received from Deere demonstrate how AST continues to improve the ways in which we partner with our customers to develop measurable solutions in an efficient and cost-effective way."
Suppliers who participate in John Deere's Achieving Excellence program are evaluated annually in several key performance categories including: quality, cost management, delivery, technical support, and wavelength (a measure of responsiveness). John Deere Supply Management created the program 20 years ago in 1991 to provide a supplier evaluation and feedback process that promotes continuous improvement.