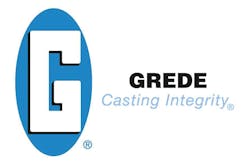 Grede Holdings LLC, a leading producer of cast, machined and assembled components for transportation and industrial markets, has named Jay Solomond, Vice President, Engineering & Technology, effective immediately. Solomond is based in Southfield, MI.
In his new position, Solomond is responsible for leading technology initiatives along with new materials, and new business development and deployment.
"We are pleased to have Jay join the Grede team," says Doug Grimm, Chief Executive Officer, Grede. "His background with a major automaker along with his experience at a global tier one supplier makes him a great fit for our growth platform moving forward." 
Solomond has over 20 years of experience in product engineering and new business development. He previously worked for Martinrea International, where he was responsible for the product design and development activities of systems, modules and components, as well as diversifying existing product portfolios. He has also worked for the former DaimerChrysler as a Senior Design and Release Engineer.
Solomond holds a bachelor of science degree in materials science and engineering from Pennsylvania State University. He also has a master of science in administration from Central Michigan University.