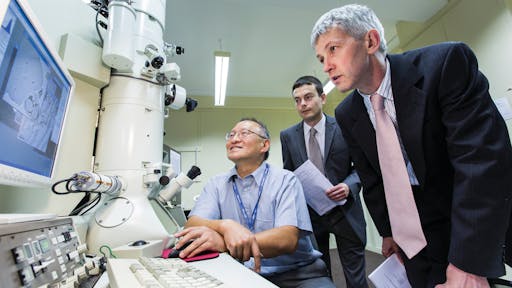 As the only supplier to provide steel for both fork and mast manufacture, and with the widest product portfolio in this market, Tata Steel has an extensive track record in supplying leading material-handling OEMs. Its advanced service solutions involve OEMs right from the start of a project, with the development of optimized materials for improved end-product performance. Tata Steel's distribution network is also aligned to the needs of the industry, improving supply chain planning and reducing manufacturing costs.
Tata Steel will be exhibiting at the world's leading intralogistics fair, CeMAT, which runs from May 19 to 23, to demonstrate how it works in partnership with customers providing steel solutions which can lead to reduced time and costs, and which maximize efficiency.
Phil Clements, Head of Lifting & Excavating at Tata Steel, says, "Across Europe, end users are demanding material-handling vehicles which use less energy, emit less CO2 and are as safe as possible during operation. By working closely with OEMs through our Early Vendor Involvement (EVI) program, Tata Steel delivers the products and services they need to meet the objectives of their own customers.
"Our newly-aligned European distribution network and our global just-in-time delivery make purchasing and supply chain planning easier and manufacturing more cost effective for our customers. As a result we are able to offer leading manufacturers in Germany, Europe and throughout the world a tailored package of the products and services they need to gain advantage and further grow in their markets."
Tata Steel offers the material-handling market a wide range of high-quality advanced products including special profiles for mast sections, fork arm flats for making forks and structural steel plate for machine body panels and wheels. The steel producer also manufactures tubes for rollover protection systems (ROPS) and falling object protection systems (FOPS), and steel bars for gear and driveline components.
Tata Steel products can be manufactured according to specific customer designs using a range of steel grades, including standard structural steel, steel with higher carbon levels, and boron quenched steel for higher strength. Chemical content of steel for specific applications can be tailored as required by customers.
Services for improved product efficiency and reduced costs
Tata Steel will be at CeMAT to show how it partners with leading material-handling manufacturers to design state-of-the-art equipment components with its Early Vendor Involvement (EVI) programme. One example is the cooperation with forklift manufacturers to design masts with greater operator visibility, improved wear life, or higher strength to support heavier loads. Tata Steel has worked closely with manufacturers of reach stackers to develop booms with improved fatigue life to extend the life of the vehicle. The company's engineers work alongside OEMs to support customers in optimizing their equipment in terms of product design, manufacturing and material composition. EVI can reduce the total production cost for OEMs, offering the end user a higher quality and more efficient product. Tata Steel has gained a lot of experience with this approach, which was initially developed for the automotive industry and is now being successfully adopted by Tata Steel with material-handling equipment makers.
Tata Steel supplies its German customers either directly from its UK and Netherlands-based manufacturing sites with support of the local sales office in Düsseldorf, or via the network of their German subsidiary Blume Stahlservice, depending on the nature of the products and services required by the customer. Following the transformation of Tata Steel's steel manufacturing and distribution network into market sectors, each customer now has access to its own dedicated account team, providing access to the complete range of products and services via one point of contact. With additional services such as laser profiling, plasma cutting and machining, Tata Steel's customers can get the product they want, at the time and in the format they need it, allowing them to focus on their core business.