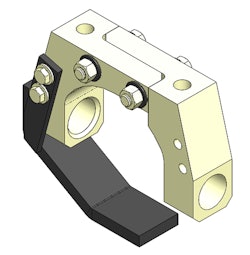 ABSTRACT
Manufacturers face multiple challenges in bringing equipment to market. Reducing cost is always important, but not at the sacrifice of performance. Additional considerations like manufacturability and availability of resources can be a challenge regardless of pricing.
Converting to a new material or manufacturing process can be an uphill battle for design engineers. There is often resistance to change if a component functions without performance issues. Ultimately, cost reductions can serve as the driving force for a conversion process providing that the performance of the redesigned component is at least equivalent to the prior design.
Successful conversions require a team effort between manufacturers and their suppliers. This article summarizes the joint efforts between an agricultural component manufacturer, metal casting facility, and a heat treater to develop a new design for a trunnion bracket assembly that resulted in a dramatic cost savings and improved component performance.