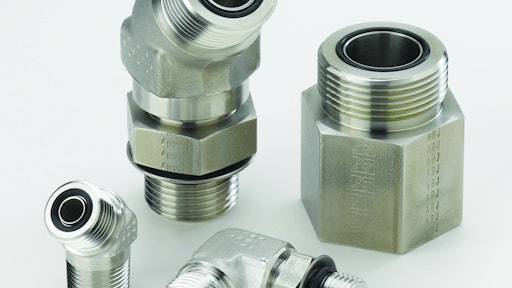 Brennan Industries Inc., an international supplier of hydraulic fittings and adapters, introduces stainless steel O-ring face seals and flange adapters. The stainless steel provides corrosion resistance and sealing for critical, harsh-duty applications.
O-Ring Face Seals
Eliminates leaks while allowing operating pressures up to 6,000 psi
Connects to range of tubing grades by siver brazing
Allows easy disassembly and reassembly
Available in 23 configurations and 35 size combinations
Flange Adapters
Hot-piercing bent provides desired angle 
Swept configurations allow performance in limited clearance applications
Endures high working pressures and tensile strength
Available connection sizes range from 1/2 in. to 4 in.
Request More Information
Fill out the form below to request more information about
Stainless Steel O-Ring Face Seals And Flange Adapters