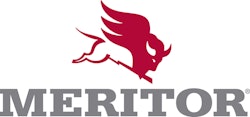 ArvinMeritor Inc. announced that the Meritor Tire Inflation System (MTIS) by Pressure Systems International (PSI) has been selected as Timpte Inc.'s preferred automatic tire-inflation system.
Timpte, located in David City, NE, is a premium producer in the bulk commodity semi-trailer market. Celebrating 125 years in operation, Timpte is dedicated to quality, durability, safety and best-in-class customer support. 
"Timpte has been a long-term valued customer of ArvinMeritor and we are honored they have chosen MTIS by PSI as their preferred system," says Walter Sherbourne, North American Trailer Products sales manager, ArvinMeritor. "The selection illustrates Timpte's commitment to specifying cutting-edge trailer systems that result in improved tire maintenance management and bottom line ROI."
The MTIS by PSI system, the market leader in automatic tire inflation systems, keeps tires properly inflated while reducing downtime and total operating costs.  "Timpte chose the MTIS by PSI system for its proven superior design that increases tire life, fuel efficiency and safety coupled with efficient and reliable operation, and we truly appreciate the support of a well-respected company in this industry such as Timpte," said Steve Robinson, director of OEM Sales and Dealer Programs, PSI.  "The MTIS by PSI is one of the world leaders in automatic tire inflation systems for trailers and is specified on over 25% of the North American market."
The MTIS system works by routing air from the existing trailer supply through a control box and into each axle. The axles carry air through a rotary union assembly, which is the only moving part in the system, reducing maintenance requirements. The rotary union distributes air to each tire as needed, maintaining proper tire inflation. Proper tire inflation improves fuel economy delivering increased profitability.
Features and Benefits of the MTIS system include:
Maximizes tire tread life and optimizes tire footprint
Improves fuel economy
Reduces tire maintenance costs
Protects against blowouts caused by under inflation
Compatible with Meritor WABCO PLC Display for tractor-trailer communications as well as other telematic devices
Available with Meritor ThermALERT wheel-end heat-sensor technology