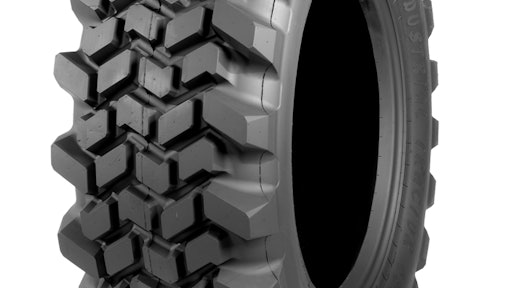 Trelleborg Wheel Systems presented its high-quality tires and wheel solutions at the ConExpo 2011 show held in Las Vegas, March 22 to 26, 2011.
Trelleborg's rear tractor industrial tire T459, size 520/70R34 171 A8 was one of the most appreciated products by customers, professionals and OEMs visiting the show. Developed to install on existing tractor rims the T459 has an open tread design for great traction and good breaking capability on hard surfaces. Thanks to the bias belted design, capable to combine the best of radial and cross ply constructing, the T459 offers an excellent comfort on the road and in the field, increases hillside stability and driver safety.
For construction professionals the SKS-900 solid skid-steer tire was of the talk of the show. Trelleborg's SKS-900 is an ideal solution for construction, demolition, mining and utility industries. The terraced tread pattern provides self-cleaning properties in sandy soils and muddy conditions, while the solid rubber body insures that a minimum amount of downtime due to punctures and cuts.
"We would like to thank all the customers and professionals visiting ConExpo for taking the time to come and find out how Trelleborg can be their total solutions provider. We are looking forward to returning to Las Vegas with new technology solutions to further benefit of our customers" says Ydo Doornbos, Managing Director of Trelleborg Wheel Systems Americas, Inc.