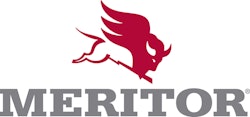 Meritor, Inc., Troy, MI and Pressure Systems International (PSI) have announced the renewal of their strategic alliance covering the distribution of the Meritor Tire Inflation System (MTIS) by PSI in North America. MTIS by PSI is the leading automatic tire inflation system in North America with over 350,000 units sold.
Under terms of the agreement, Meritor remains the exclusive distributor of MTIS by PSI for the commercial semi-trailer market and aftermarket in North America, selling a complete line-up of kits for new or retrofit installations. Pressure Systems International retains all responsibility for design and manufacture of the system, which includes ThermAlert technology, a high temperature notification system available on all MTIS by PSI kits. 
"Meritor is certainly pleased to have the opportunity to continue offering MTIS by PSI as part of our comprehensive trailer undercarriage product line. Together with PSI we've built the automatic tire inflation market from the ground up in North America," states Craig Frohock, General Manager, N.A. Trailer for Meritor. "The new agreement allows us to continue bringing this value-added technology to our trailer customers. During the next several years, we expect more and more customers to adopt MTIS by PSI as a way to reduce operating costs and improve their bottom line."
Tim Musgrave, President and CEO of PSI added, "MTIS by PSI offers tremendous value to our customers by improving fuel efficiency, increasing tire life and reducing costly road side service calls. PSI's patented technology combined with Meritor's market presence offers the North American trailer industry the leading automatic tire inflation system sold and distributed by a company with a reputation for excellence. Our partnership with Meritor has been good for both our companies and for the trailer industry in North America."
MTIS by PSI is a simple design which can be installed on any type of trailer including van, liquid tank, logger, flat bed, chassis, livestock, platform, drop frame, dump, deep drop, doubles, dry bulk, reefer, auto transporter, and military. The system adds life to tires, increases fuel efficiency and safety, maximizes recap potential, and keeps trailers on the road delivering loads on time.  It is a truly automatic system with constant air pressure available when needed. The patented rotary union is the only moving part in the entire system, significantly reducing maintenance. ThermALERT adds wheel-end heat sensing technology to alert drivers to take preventative action that avoids damage due to elevated wheel-end temperatures. It is estimated that more than 60% of all major domestic for-hire and private fleets are using MTIS by PSI.