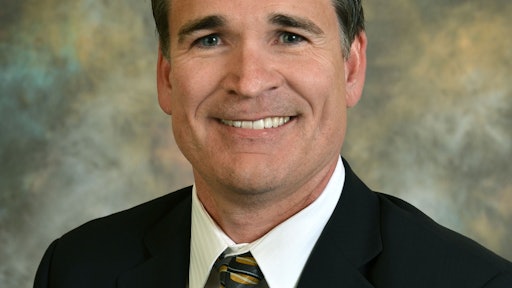 Six months of 2011 have sailed by, and for Dan King, Yokohama Tire Corporation (YTC) senior vice president of sales and marketing, the journey has been defined by varying currents, which at times has included navigating through choppy waters. The company has had to deal with ramifications from the March 11 earthquake and tsunami that devastated parts of Japan, home to Yokohama's parent company, The Yokohama Rubber Co., Ltd. (YRC). The earthquake, along with a shortage of raw materials, has exacerbated an already tough global fill-rate problem. Despite all, King says Yokohama's mark of continuous growth is on course, with 2011 showing to be a strong year and the outlook on the future even stronger.
Question: Can you give an update on how the Japanese earthquake and tsunami affected YRC? Also, how has it affected YTC in the U.S.?
Dan King: We all know it was devastating to the country and people of Japan, and it has impacted all the people at YRC to some degree. We've been lucky: most of our employees in Japan and their extended family members were not seriously hurt.
We did lose some facilities and witnessed some downtime with a number of our Japanese plants and testing facilities. Not surprisingly, we experienced a shortage of raw materials and products. We tried to minimize the impact in North America – where the demand is so high.
It did have an effect, though, especially within our commercial tire division where we received less inventory than we anticipated. However, we were able to work through it and move forward. We were very fortunate within our consumer tire division as well, as a large portion of demand from there is filled in our plant in Salem, VA, which we are currently expanding and will be finished in September.
Question: Do you see any long-term effects?
King: No, we don't see any issues based on where our plants are in the region. The raw material shortage will last a bit longer, but we don't see that as a long-term situation.
Question: Supply shortages seem to be an industry-wide problem. Do you see that situation for Yokohama improving in the next six months?    
King: The OE segment remains in high demand. With respect to the replacement market – though it is showing a slight leveling off this year – the segment is expected to see industry growth next year, in 2013 and 2014. We expect to see worldwide growth as well, especially in China, India and Brazil. It's going to have an impact on the industry's capacities, and we are addressing that with the Salem expansion and a major expansion in the Philippines. We're looking at other parts of the world, as well.
For Yokohama specifically, we feel very good because our demand is high. We've always prided ourselves on working closely with our customers and having very strong fill rates, but we haven't been able to do that right now. We are increasing our supply and bettering our fill rates, and we expect this to improve even more next year.
Question: Is the Salem expansion on target in production output?
King: It's definitely on target. We've been able to get more production each month than we had originally planned.
Question: We're midway through 2011. Business-wise, is YTC where you projected?
King: It's been a good year for Yokohama. We have very strong demand and, as mentioned, our biggest challenge is making sure our customers are taken care of. We're not always going to be the biggest supplier, but we strive to be the best and most efficient. We want our customers to love selling our product and to have confidence in us. That's why we're working so hard to eliminate the fill rate situation.
From an industry standpoint, we saw growth in the first couple of months of the year, but we're now starting to see it trail off. We have to watch consumer demand closely because as gas prices increased, we saw a pullback. The economy is still a concern for consumers.
Question: Is the presence of cheaper tires from China and other countries still a factor?
King: There are a lot of brands in the U.S. It's a large and growing market, so a lot of manufacturers want to have a presence here. However, the raw material cost increases have been significant, and those impact every manufacturer, including the Chinese. They've had to re-evaluate how they price in the U.S. There have also been issues with duties – the Chinese and Thailand tariffs. Those have had an impact on pricing in the U.S., as well.
Question: Yokohama has had a long reputation for performance and quality so you obviously do not compete on the basis of pricing alone. Are there any new consumer tires that you'll be bringing out soon or any new sizes on your existing line-up?
King: We've launched several new sizes this year that have helped our dealers and we have some exciting new products slated for the beginning of 2012. One is a new passenger touring tire we expect to be class-leading. We'll also introduce an eco-friendly tire that will push the envelope, even beyond where our current environmental tire, the orange oil-infused dB Super E-spec has gone.
Question: What about high-performance tires?
King: We're working on some really exciting, new ADVAN products. We have a new ADVAN Sport premium product that's OE on Mercedes and will be coming to the U.S. next year. We'll initially have a limited launch – primarily OE sizes – and then more sizes later. We're also working on some new ultra-high-performance all-season products.
Question: How are things going on the commercial side?
King: We feel there's still a gap between supply and demand on the commercial tires, probably to a greater degree than the consumer. The demand on the OE commercial side is well above expectations.
The replacement side was extremely strong, but has leveled off a little. Our demand versus our ability to supply now is a much bigger gap than we're comfortable with, so we are trying to get as much product as we can flowing through. Any product that hits the dock goes to our warehouse and is immediately moved to the customer.
We've recently introduced a premium steer product – the 101ZL – which we're testing on a lot of fleets. The response is tremendous. We know we're going to have more demand; the question is, how do we fill it? We're working on that for this year, 2012 and 2013.
Question: As the highest-ranking American executive at YTC, what are some of your long-term visions for the company?
King: We're working on an aggressive transition in the coming years. When it comes to how we service our accounts, we want to push our company forward in major steps, not small ones.
As I mentioned before, one of the things we pride ourselves on is being the best supplier. If we're the best supplier to our accounts, then they know we're an efficient partner and they can make good margins off Yokohama products. They'll have confidence in our product and will to want to sell it. That's what our focus is.
We have always been known for our products and we want to continue to push the envelope with new technologies. We expect to develop some of the best tires in the world.
Question: Any plans for building a new tire plant in the U.S.?
King: We're always looking at matching our supply and demand, and that means evaluating capacity increases and allocation changes. We're looking at all those possibilities, including pulling allocation from one area of the world and bringing it to North America.
We've already had plant expansions in Salem and in the Philippines. We're still evaluating further consumer capacity increases, and that may mean a new U.S. plant in the future.
We believe a new U.S. facility would have significant benefits for us on the commercial side, too. Even though some of the cost structures are much higher in the U.S., compared to other parts of the world, there are advantages: the closeness to the market and the ability to service the accounts in a more efficient way. It's a balancing act between costs and benefits, but our plan is to constantly evaluate building new plants for the future.
Question: Switching gears here for a moment, you have several marketing initiatives when promoting awareness for your products and the Yokohama brand overall. One of them is sports marketing, which includes pro football and basketball sponsorships. With the possibility of lockouts next season, how would your sports marketing be affected?
King: When we went into our re-negotiations, we discussed the possibility with the respective teams and have had some provisions pre-built into our contracts. We are close enough to the teams and feel good the NBA and NFL will be able to work through this. The seasons may not start on time, but we feel good about the core promotional events we do during the regular season. We're working with our dealers as though there's going to be a season, and they're excited about it.
We have great relationships with teams like the Baltimore Ravens, whom we've partnered with for years, and have recently added the Dallas Cowboys and Denver Broncos to the mix. The dealers in those areas have given us tremendous support because they strongly believe it is driving business to their doors, and gets everyone talking about Yokohama products in their stores. We give them point-of-sale materials to help drive that home, and, of course, we have some great new products to talk about as well.
It's still possible there could be some issues with the owners and the union on negotiations, but as of right now, we feel we can move forward. We're looking at additional markets in 2012 and our goal is to keep adding them because this has been a successful program and the dealers really support it.
Question: If there wasn't an NFL or NBA season, would you consider looking at hockey, or sponsoring more baseball?
King: Yes, it's definitely possible, but, by the time we find out, it'll be difficult to jump into another sport. We have evaluated all the sports and that's why we are moving forward with more baseball. We signed with the Philadelphia Phillies and have a great promotion running now that looks like it's going to be extremely successful. We have a great partnership with our hometown Angels here in Orange County, and that's been very successful for us, too.
We'll probably expand more into major league baseball, the NBA and NFL, but hockey is one sport we want to watch closely because there are some great opportunities.
Question: YTC is also heavily involved in motorsports, another avenue for sports marketing. Are you looking to expand the motorsports program?
King: Motorsports are a major part of Yokohama's heritage and a prime focus of our sports marketing. We still use racing to test a lot of our technologies. In fact, the use of orange oil in our eco-tires came from our racing engineers, so it's an important part of our branding initiatives. We are working on getting our dealers more involved and looking at promotions and incentives to help drive more business to their counters through motorsports. We've had some successful programs this year, but we're evaluating all of our motorsports activities and how they benefit the dealer.
Question: You used Cameron and Heidi Steele, YTC's-sponsored off-road champions, in a TV commercial that received a lot of positive exposure. Is YTC going to use its motorsports stars in more ads?
King: We've had incredible feedback with the TV spot. Cameron Steele is probably the most recognized off-road racer in the industry now, and Heidi is certainly the most decorated female off-road racer. We're proud to have them represent Yokohama – they do a terrific job for us. It was a natural fit to play off of them as the only husband and wife off-road racers at the top of their class. We definitely want to incorporate what we're doing in our branding and connect them together. Motorsports, like Cameron and Heidi, are a natural fit for us and our advertising, so we want to do more of that.
Question: YTC has a new president, Mr. Tanaka, who replaced Mr. Oishi. Your thoughts on Mr. Oishi's accomplishments here, and what you expect from Mr. Tanaka.
King: Mr. Oishi has been a great asset to Yokohama in the U.S. The growth we've had since he's been here has been remarkable. He's helped galvanize relationships with our accounts; he's made Yokohama more efficient and effective; and he's strongly supported our people.
At the same time, we're used to having transitions at the top level, so we've built our company structure so it doesn't require major changes when we get a new president. When a new president comes in, we have our strategy set and structure in place; we know where we're going.
A new president can come in and take his time to learn about YTC and the U.S. market, and then help us get to another level with our relationship and communication with our parent company.
Question: What were some of Mr. Oishi's key initiatives?
King: One of the biggest accomplishments during Mr. Oishi's tenure is we've become the biggest subsidiary of our parent company globally. There's more of a focus here than in the past, which means even more resources for new products and new technologies specific to the U.S. market can be made available.
Question: What can you tell us of Mr. Tanaka? Do you know him from YRC?
King: I know him and he's going to be a great addition for us. Everyone has great respect for him throughout the Yokohama organization and here in the U.S., so we're excited to have him onboard. We're sad to see Mr. Oishi leave because he's been an integral part of who we are. But, we're also excited to have Mr. Tanaka here, whom I know can help us go to yet another level.