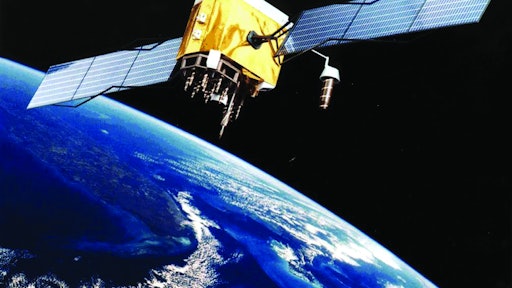 During the State of the Union address in January, President Obama stated that making broadband available for 98% of Americans is essential to "winning the future." According to the Federal Communications Commission's (FCC, www.fcc.gov) National Broadband Plan, broadband can serve as the foundation for long-term economic growth, investment and job creation.
The following day, the FCC approved a waiver allowing LightSquared LLC—a satellite firm based in Reston, VA—to build its 40,000 planned ground support stations (terrestrial transmitters) for wireless communication in frequencies on either side of the GPS L1 band. LightSquared's goal is to build an open wireless broadband network able to support current and future wireless devices without restriction. The technology, called Long Term Evolution (LTE) is a widely adopted 4G mobile standard globally. This LTE network will be combined with commercial satellites to create not only nationwide 4G coverage, but a LTE-satellite network—a first in the world.
The FCC and LightSquared see the launch of a nationwide broadband service as an opportunity to introduce a new competitive force into the market for high-speed wireless internet services, a service that would affect all 260 million Americans.
Initial opposition
After several companies, GPS system providers and government agencies opposed the waiver due to worries of interference with their satellite-based product and vehicle offerings, LightSquared's waiver was granted on the condition that solutions were found and the interference problems resolved.
Objections from the GPS industry included worry that the transmitters from LightSquared would cause interference that could affect safety due to inoperable or unreliable signals.
On February 25, the proposed work plan (as required by FCC per the waiver agreement), developed in cooperation with the U.S. GPS Industry Council (USGIC), was submitted to analyze the potential interference to GPS devices. The group would identify and agree upon interference analysis, evaluate test methodologies, determine the devices and scenarios to be tested (both lab and field test environments) and analyze test results to determine measures to correct any interference problems.
In a letter to the FCC from Fugro EarthData Inc. president Edward Saade stated, "Resolution of interference has to be the obligation of LightSquared, not the extensive GPS user community. LightSquared must bear the costs of preventing interference emanating from their devices."
The FCC argued the "responsibility for protecting services rests not only on new entrants to a spectrum, but also on incumbent users themselves who must use receivers that reasonably discriminate against the reception of signals outside their allocated spectrum. In the case of GPS, we note that extensive terrestrial operations have been anticipated in the L-band for at least 8 years."
LightSquared assures that it is not its waves bleeding into the GPS spectrum, but rather GPS bleeding into the LightSquared spectrum because the devices have been designed over the years without the proper filtration.
"Nonetheless, it was such a big problem that LightSquared is going to rearrange the way it's going to launch and has proposed to move to a different slice of spectrum as far away from GPS as it can go," says Chris Stern, spokesman for LightSquared. "The proposal is currently [as of July 15] in front of the FCC and takes care of 99.5% of all GPS devices, essentially 300 million cell phones.
"The 0.5% of precision GPS is still a problem," he admits, though he also adds that LightSquared looks forward to working together with the GPS industry and engineers to find a solution.
Precise positioning opposition
In the past couple of month, the GPS industry, industry organizations in construction, agriculture and transportation, as well as the Association of Equipment Manufacturers (AEM) have been relentlessly campaigning to protect GPS signals and the industries that use them.
The precision systems that have been designed and implemented into off-road equipment have enhanced production, output, efficiency and other time- and cost-saving benefits for owners and operators. To have an unreliable signal would harm or potentially eliminate off-road equipment to utilize these systems.
What's more, the telematics and tracking systems in place to protect owner assets would also be affected, effecting asset security, operator safety and business management best practices.
Coalition to Save Our GPS
In a statement put out by the Coalition to Save Our GPS (www.saveourgps.org), more than 3.3 million U.S. jobs in agriculture and industries rely heavily on GPS technology. The potential economic cost is upwards of $96 billion to U.S. commercial GPS users and manufacturers.
Within the Coalition's release, statements from industry officials were noted including:
Ken Golden, director of global public relations, John Deere: "The use of GPS technology is vital to thousands of people who make their living with agricultural and construction equipment. It is simply not acceptable to allow this new network to interfere with these important industries when all indications are that there is no practical solution to mitigate this interference. In agriculture, the loss of a stable GPS system could have an impact of anywhere from $14 to $30 billion each year. That could significantly erode the strong competitive global position of U.S. farmers in the world agricultural economy. Serious impacts to the productivity of those in the construction business also will be apparent."
Siamak Mirhakimi, general manager, Caterpillar Electronics & Systems Integration: "High precision GPS continues to be widely adopted technology in heavy construction and civil engineering due to the benefits of increased productivity, improved job site safety, faster completion times for projects and reduced fuel and rework costs. The test results clearly show substantial interference to high precision GPS which in turn will impact our products and customers. Allowing any company to cause interference to the GPS band would be a major step backward and significantly impact this domestic industry, which has invested billions of dollars in GPS enabled products and which employs over a million people in the U.S."
Study conducted by Dr. Nam D. Pham
In the study "The Economic Benefits of Commercial GPS Use in the U.S. and The Costs of Potential Disruption" conducted by Dr. Nam D. Pham of the Washington, D.C.-based NDP Consulting Group, it warns of "serious economic repercussions for the U.S. economy" if LightSquared's plans proceed and points out that the $96 billion economic figure represents the equivalent of 0.7% of the U.S. economy. The $96 billion figure is the total of up to $87.2 billion in costs to commercial GPS users and up to $8.8 billion in costs to commercial GPS manufacturers. The commercial benefits of GPS are largely enabled by high precision GPS technologies.
Dr. Pham's study states that the commercial adoption of GPS continues to grow at a high rate and is expected to annually create $122.4 billion in benefits and grow to directly affect more than 5.8 million jobs in the downstream commercial GPS-intensive industries.
Within the study, it is made clear that its analysis is confined to the economic benefits of GPS technology to commercial GPS users and GPS manufacturers, mainly high precision GPS users, and the economic costs of GPS signal degradation to only those sectors. The report does not capture the benefits and costs to consumer users of GPS, other non-commercial users and military users.
The Transportation Construction Coalition
The Transportation Construction Coalition (TCC), a partnership of 29 national associations and construction unions, issued a letter to the Secretary of the Dept. of Transportation (DOT) expressing its concerns for the LightSquared GPS signal interference. The TCC made it clear that it did not object to the goals of increasing wireless data capacity and competition, but did not want it to jeopardize construction operations and the transportation sectors.
The
Association of Equipment Manufacturers
AEM is a founding member of the Coalition to Save Our GPS, as well as a member of the TCC. In June AEM called upon Congress, the DOT and the FCC to stop the threat to U.S. GPS posed by the LightSquared initiative.
"The harm to highly productive precision agricultural practices is clear," AEM president Dennis Slater stated. "Farmer business plans depend on GPS information such as yield data, harvest weights, moisture data and other precision agriculture data." The interference could impact productivity and impede upon the agriculture industry's ability to meet food demand globally.
In search of a resolution
While there is strong opposition to the LightSquared project, and tests confirm there is interference with GPS signals that would affect performance and signal reliability, there too must be a willingness to find a solution. There are benefits to launching a successful nationwide broadband service that will provide high speed LTE wireless broadband.
"Currently the U.S. ranks 17th in the world when it comes to broadband," says Stern. "That's not acceptable in the 21st century. That's why this is such a big deal, and which is why the precision problem needs to be solved."
Precision has an issue and it needs to be—and can be—solved.
Related News items:
GPS/ GNSS Community Feels New Telecom Interference Threat from LightSquared, www.InsideGNSS.com
LightSquared, GPS Industry Council Propose Process for Assessing GPS Interference Risks, www.InsideGNSS.com
LightSquared Solution to GPS Issue Will Clear Way for Nationwide 4G Network, www.LightSquared.com
LightSquared Forms Rural Initiative to Ensure LightSquared and GPS Co-Existence, www.LightSquared.com
FCC Invites Comment on LightSquared Interference to GPS, www.InsideGNSS.com
Companies in this article