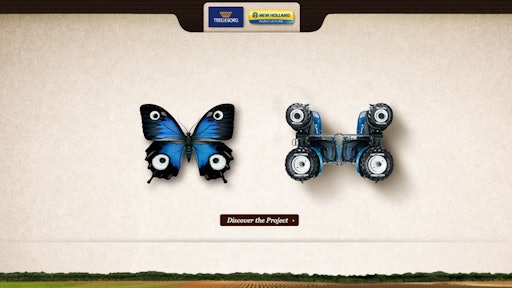 Celebrating the success of the Blue Power tractor project, Trelleborg and New Holland Agriculture extend their partnership with a new joint marketing initiative that includes an advertising campaign as well as a co-branded website, www.trelleborg-newholland.com.
Product Management Director of New Holland Agriculture, Pierre Lahutte, explains the long term partnership with Trelleborg: "The results of the first T7000 Blue Power campaign went far beyond our initial expectations. They proved that our customers appreciate the joint efforts of New Holland and Trelleborg towards enhanced farm productivity and efficiency and full respect of the environment. We are extending our collaboration to offer farmers and contractors best-in-class products that help them meet sustainable agricultural requirements."
The next step for the collaboration between Trelleborg and New Holland Agriculture is promoted with a joint advertising campaign and dedicated website. The campaign is called "The blue butterfly." As the headline says, the campaign expresses the following concept: "Such a fragile ecosystem needs the lightest touch." Its message is that preserving the environment and the soil can achieve the best results. The visual creates a parallel between the butterfly, nature's most delicate creature and the T7 Blue Power, the tractor that is gentle on the soil.
Marketing Director of Trelleborg Wheel Systems Agriculture Division, Lorenzo Ciferri says: "TM800 tires are the natural choice for the T7 Blue Power tractors. With an up to 9.2% wider footprint, they provide farmers unbeatable productivity while preserving soil health. Together, Trelleborg and New Holland harness power and full respect for the earth."
After two years, the Blue Power project has entered its second phase. The benefits provided by Trelleborg and New Holland solutions are described in the new co-branded website. It contains general information about the project and the products' main benefits, videos, a media gallery, a press area and a download section with brochures and wallpapers.