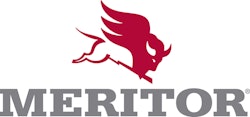 Meritor, Inc. displayed the ProTec Series 30 High Mobility Independent Suspension (HMIS) and Drivetrain at the Association of the United States Army's (AUSA) Annual Meeting and Exposition, held October 10 to 12, 2011. The ProTec Series 30 was developed for use on the HMMWV Modernized Expanded Capacity Vehicle (HMMWV MECV) and uses combat-proven components that require no additional modifications for the MECV.
"In adapting the Meritor ProTec Series 30 system to the HMMWV, we paid specific attention to issues experienced in the combat zone with the current up-armored platforms," says Ed Eshelman, director, Engineering, Meritor. "Primarily, we concentrated on suspension performance and how that relates to both stability and durability issues."
The ProTec Series 30 HMIS was engineered to offer enhanced performance through increased wheel travel, a higher steering angle and improved roll stability and ride quality. It will easily adapt to the existing HMMWV architecture with no further upgrades necessary beyond those previously specified for a recapitalized HMMWV.
Additionally, the drivetrain used in the Meritor ProTec Series 30 has already proven itself by logging thousands of miles in the rugged and demanding mountainous terrain in Afghanistan.
"Providing the Army and Marines with a production-level, mission-proven drivetrain system for recapitalizing HMMWVs will enable the new vehicles to meet all of the system requirements across the complete range of military operations with no compromises to vehicle performance," says Dave Damian, director, Sales and Business Development, Meritor Defense.
"We are confident the Meritor ProTec Series 30 system offers the Army and Marines a very affordable system with the highest level of performance the program requires," he adds.